Plastic Surgery Icons? Sex Symbols Of The 70s & 80s Rumored To Have Gone Under The Knife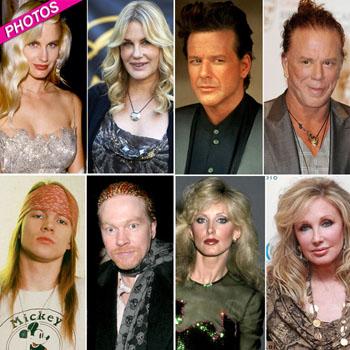 It's hard getting older when you are a Hollywood sex symbol.
From big screen bombshells and Hollywood hunks to musical legends, the biggest sex symbols of the '70s and '80s are just like us -- they get older and the years catch up to them -- but not everyone relies on the natural aging process. RadarOnline.com has photos and details about 10 sex symbols from the 1970s and 80s rumored to have gone under the knife.
Article continues below advertisement
Oh Mickey Rourke, you used to be so fine! The 9 1/2 Weeks star was one of Hollywood's staring in a slew of erotic thrillers, but the combination of a brutal boxing career and several reconstructive surgeries have resulted in a far from flawlessly faced look for the 60-year-old star.
Ellen Barkin was one of the hottest blondes of the 1980s, staring in hit movies such as The Big Easy and Sea of Love. Now 58, she still looks gorgeous, but experts believe she has gone under the knife to maintain her great looks.
Article continues below advertisement
Kelly LeBrock was The Woman In Red and the hottie in Weird Science, with her good looks splashed on the walls of boys around the world, but at 52, Kelly appears to have transformed her looks with the help of modern plastic surgery science.
And it doesn't get much more 80s than Madonna! The Material Girl rose to fame during the decadent decade, with every guy wanting to be with her and every girl wanting to be her. Now 54, she is looking much younger than her age – and dating men in their twenties – and experts believe her youthful looks are due to numerous procedures.