Clumsy Child O'Mine! Axl Rose Faceplants, Forgets Song Lyrics On Stage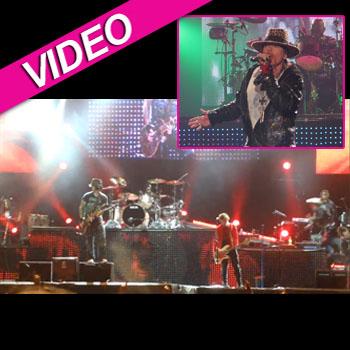 He used to run around the stage, thrusting his stuff in tight leather pants, but now Axl Rose struggles just to stay upright!
The Guns N' Roses legend experienced an embarrassing incident in France over the weekend, falling on his face only 30 seconds into his hit song Sweet Child O'Mine – and RadarOnline.com has the video.
Rose, who has been blasted for failing to hit the high note during his world tour, made his grand entrance on the stage of HELLFEST, attempting to hop onto a stage platform and instead falling flat on his face.
Article continues below advertisement
However, the rock legend didn't let a little spill prevent him from continuing his performance. He hopped right back up and continued belting out the band's 1990s mega hit – though he stood still most of the song–and to make matters worse he sang the wrong verse twice!
"He sounds like Herbert from Family Guy," one fan commented on the YouTube video.
"He missed out the entire first verse of his own song! Just…how?!" wrote another, about his lyric mess-up.
What do you think about Axl Rose's latest performance? Sound off below.