Axl Rose Passes On Induction Into Rock And Roll Hall Of Fame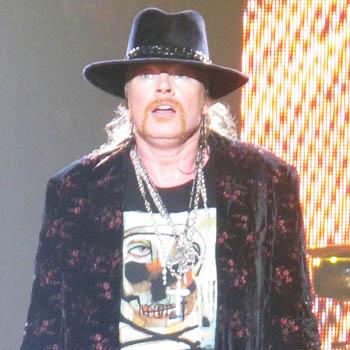 Cleveland will not witness Axl Rose's famous shuffle when Guns N' Roses enters the Rock And Roll Hall Of Fame this weekend.
"I respectfully decline my induction as a member of Guns N' Roses to the Rock And Roll Hall Of Fame," the screechy rocker said in a letter he penned to the institution Wednesday, citing past friction with bandmates as the primary reason he's passing on the ceremony.
Article continues below advertisement
"No offense meant to anyone," the Indiana-born singer wrote, "but the Hall Of Fame Induction Ceremony doesn't appear to be somewhere I'm actually wanted or respected."
Rose, 50, said after giving the idea much thought, he concluded his presence would make for a "somewhat of a complicated or awkward situation," as he's virtually been estranged from his former running mates the past 16 years.
Rose said there's no chance of any kind of reunion for the popular band, adding he'd only share the stage with ex-mates Izzy Stradlin and Duff McKagan again, as there's still white hot tension with Steven Adler and Slash, who recently told Rolling Stone, "Rose hates my guts.
"It's over a lot of different stuff; I don't even know," the guitarist said. "There's just no communication between us."
Rose wrapped up saying, "So let sleeping dogs lie or lying dogs sleep or whatever. Time to move on. People get divorced."