Plastic Isn't Always Fantastic! 14 Stars Who Have Expressed Regret About Going Under The Knife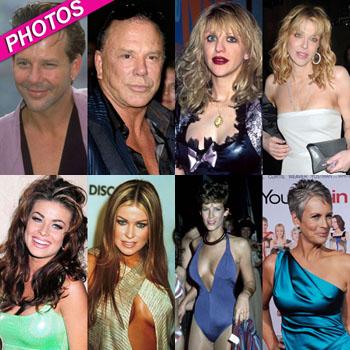 Sharon Osbourne isn't the only star who has gone under the knife in the name of vanity and lived to regret it!
From big screen bombshells and reality stars to country crooners and comediennes, several Hollywood celebrities have altered their looks with cosmetic procedures and not been happy with the results. RadarOnline.com has photos and details about 14 stars who have regretted artificially transforming their looks.
Article continues below advertisement
Bigger boobs aren't always better! Both Brit glamour model Jordan and Baywatch beauty Pamela Anderson learned this the hard way, getting implants that were WAY too big for their tiny bodies. Luckily for the artificially enhanced beauties, they could have their crazy cup sizes taken down a few notches.
Courtney Love doesn't spend a ton of time talking about her extensive plastic surgery, but the Hole singer did once admit that she regretted have her smacker supplemented. "I just want the mouth God gave me back," she wrote on her MySpace page years ago. "It was perfectly cute, and I had nice big lips."
Kenny Rogers was a Gambler when it came to plastic surgery, and wishes he hadn't changed his appearance so much. "I am the plastic surgery king," he once told The National Enquirer. "I am a bionic man. I wish I hadn't done it."
And Tara Reid, the victim of a botched plastic surgery job, expressed her regret about the decision to get a tummy tuck, opting for reconstructive surgery to repair the damage.