Across The Pond Plastic Surgery! 10 British Celebs Who've Gone Under The Knife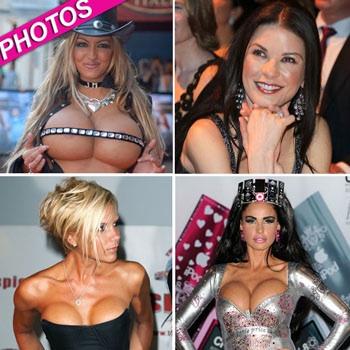 Hollywood may be the plastic surgery mecca of the world, but plenty of British stars go under the knife as well!
From chart-topping musicians and television personalities to big screen bombshells, English celebrities are just as infatuated with plastic surgery as Americans. RadarOnline.com has photos of 10 British celebs speculated to have gone under the knife.
Sharon Osbourne is proud of her plastic surgery, transforming dramatically from her younger years until the present day. After years of talking about her extensive work, however, Ozzy's wife claimed to have thrown away her plastic surgeons number in 2007. "I was following a dream," she explained about her obsession with plastic surgery. "I've had enough."
Article continues below advertisement
British socialite Tara Palmer-Tomkinson was a guest at the Royal Wedding, where all eyes were on her nose instead of her ridiculous hat. After years of battling a nasty cocaine problem, the beauty attempted to fix the visual damage caused by her drug use with several nose jobs, but wasn't quite so successful.
How does Catherine Zeta Jones keep her face looking so frozen? "Her cheeks look somewhat plump, and may be due to injections of a filler like Sculptra," celebrity plastic surgeon Dr. Anthony Youn, who hasn't treated the actress, told RadarOnline.com exclusively. "Her forehead and crows feet are also very smooth for a woman her age, likely a result of Botox injections."