Exclusive
The Audio That Will Tug At Hillary Clinton's Heartstrings: Listen To The ENTIRE Monica Lewinsky Sex Tape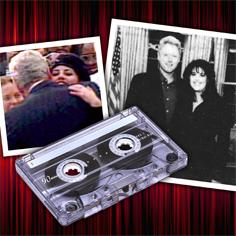 It's three-minutes and 47 second of Monica Lewinsky -- unplugged.
In an explosive sex tape unearthed 15 years after their sex scandal rocked the White House, Bill Clinton's kinky ex-mistress can be heard trying to lure the then President into a sexual rendezvous, offering "take my clothes off" if the president agrees to a meeting behind the back of wife Hillary and admitting to him that she could be a "pain the ass!"
Article continues below advertisement
Today, for the first time, RadarOnline.com is publishing the full audio recording from Lewinsky, who turned 40 last month.
"I have two proposals for you, neither of which is you not seeing me so just deal with it," Lewinsky tells Clinton, at one point. "I'll quickly sneak over and we can have a nice little visit for 15 minutes, or half an hour, of whatever you want."
Lewinsky can also be heard playfully teasing the president and suggesting she was "too cute" to ignore in the tape that was previously thought to have been destroyed.
"You can't refuse me, because I am too cute and adorable," she says. "I can be a pain in the ass sometimes. Very persistent. I hope you will just follow the script and do what I want."
The tape, first obtained by the National ENQUIRER, has reopened the scandal over Clinton's extramarital affair with his White House intern at the same time as his wife Hillary is said to be preparing another bid for the presidency in 2016.