Karl Rove Continues Pounding Hillary Clinton On Possible Brain Damage, Says She Will Have To 'Cough Up Medical Records' At Some Point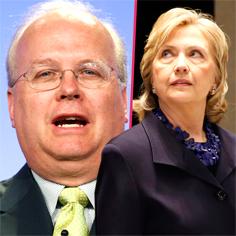 Republican powerhouse Karl Rove continues to echo the sentiments that Hillary Clinton could have suffered brain damage after she was concussed in a Dec. 2012 incident.
Rove repeated his hypothesis on Fox News Sunday with Chris Wallace, saying while he's not "questioning her health … the Center for Disease Control says a concussion is a type of traumatic brain injury.
"What I'm questioning is whether or not it's a done deal that she's running, and she would not be human if she … did not take this into consideration."
Article continues below advertisement
Rove brought up the former Secretary of State's age in regards to a potential presidential run.
Watch the video on RadarOnline.com
"She'll be 69 at the time of the 2016 election and if she gets elected and serves two terms, she'll be 77 … let's be clear: She is going to have to cough up these medical records and describe this, if this was that serious."
As we previously reported, Rove, in a conference in California earlier this month, floated the notion about the possibility of the injury, saying, "Thirty days in the hospital? And when she reappears, she's wearing glasses that are only for people who have traumatic brain injury?
"We need to know what's up with that."
Former President Bill Clinton, standing up for his wife, shrugged off the comments as conservative hullabaloo, noting that the Republicans initially thought she was faking the concussion.
The Craziest & Most Outrageous Celebrity Rumors — What's True, What's Not?
"When a question is asked, it has to be answered in a serious fashion if it raises a serious issue, even in a ridiculous way," he said. "After that, you just have to trust the people and get back to the business of what's really in the public interest.
Article continues below advertisement
"I must be in really tough shape," he joked, "because she is still quicker than I am."
Rove implied that the 42nd president was being hypocritical regarding his inquiries over his wife's health, pointing out his own campaign strategy in 1996.
"I love being lectured by Bill Clinton that this is off-limits: 'You can't talk about her health. You can't talk about her age.' Let's remember this is a guy who ran for reelection by savaging Bob Dole."
Also appearing on the program was former Vice President Dick Cheney, who was much more politically calculating in his take on the issue.
"I think any presidential candidate or vice presidential candidate is going to have to answer questions about their health," he said. "I wouldn't want to pre-judge Mrs. Clinton's health — I don't know about it."