Out Of Touch? Hillary Clinton Admits She Hasn't Driven A Car For EIGHTEEN Years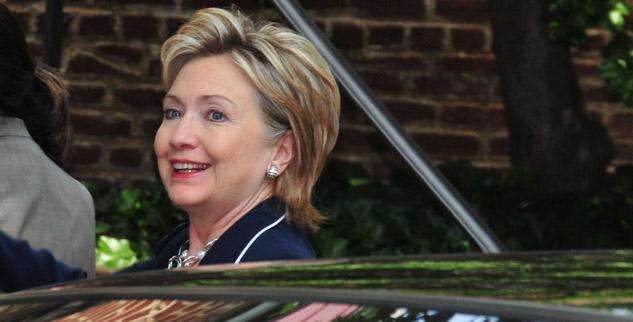 Hillary Clinton hasn't announced if she'll be on the Democratic ticket in 2016, but she won't be getting any speeding tickets any time soon: The presumptive presidential candidate admitted Monday that she hasn't driven a car since 1996!
Hillary revealed the bizarre secret during a speech at the National Automobile Dealers Association conference in New Orleans on Monday.
"I've always enjoyed stories about cars and adventures," she told the audience. "And I have to confess that one of the regrets I have about my public life is that I can't drive any more."
Article continues below advertisement
"My husband thinks that's a blessing, but he's the one who should talk," she joked. "Last time I actually drove a car myself was 1996…"
vBack in 1996, the average price for a gallon of gas was $1.23, and today, it is nearly three times that.
"I remember the experience very well," she said. "And unfortunately, so does the Secret Service, which is why I haven't driven since then."
In addition to her protection while her husband Bill was president, Hillary gets a lifetime Secret Service detail as a former first lady. And should she become President, of course, she'll be shuttled around in an armor-plated state car.
Bill has complained about being a passenger for life in the past as well. During an interview on Ellen in May 2012, he said that driving was the main pastime he missed from his pre-White House life. "Could you drive just in circles on your lawn?" host Ellen DeGeneres asked. He joked, "That's why whenever I play golf, I always make them let me drive the golf cart."
Meanwhile, across the pond, however, Prince William has been bucking with tradition and driving his own Range Rover, most notably when taking wife Kate and son George home from the hospital last summer.
Do you think Hillary's admission means she's out of touch with normal voters? Let us know in the comments!