Secret Service Scandal! Two Agents Cut From Obama's Detail After Alleged Sexual Misconduct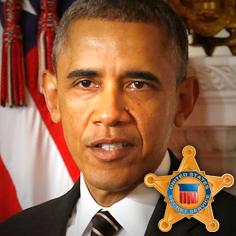 Two Secret Service agents are under investigation after another scandal has rocked the elite security agency, RadarOnline.com has learned.
Ignacio Zamora Jr., a senior supervisor who oversaw about two dozen agents in the Secret Service's most elite assignment — the president's security detail -- was allegedly discovered attempting to reenter a woman's room at the Hay-Adams hotel in May after accidentally leaving behind a bullet from his service weapon, The Washington Post reported.
Article continues below advertisement
According to the Secret Service's internal findings, Zamora was off duty when he met a woman at the hotel's Off The Record bar and later joined her in her room.
The review found that Zamora had removed ammunition from the chamber of his government-issued handgun during his stay in the room and then left behind a single bullet. He returned to the room when he realized his mistake. The guest refused to let him back in.
Zamora identified himself to hotel security as a Secret Service agent.
In a follow-up investigation, agency officials also found that Zamora and another supervisor, Timothy Barraclough, had sent sexually suggestive emails to a female subordinate, according to those with knowledge of the case.
Officials have removed Zamora from his position and moved Barraclough off the detail to a separate part of the division, people familiar with the case said.
Secret Service spokesman Ed Donovan declined to comment on the internal review of the Hay-Adams incident or the supervisors' alleged behavior.
"We have always maintained that the Secret Service has a professional and dedicated workforce," Donovan said in a statement, referring to the Hay-Adams incident.
"Periodically we have isolated incidents of misconduct, just like every organization does."
The new incidents echo some of the elements of the most damaging scandal in the service's history, in which male agents brought prostitutes back to their rooms in Cartagena after a night of heavy drinking in April 2012.