From The White House to The Dog House: V.P. Joe Biden Says Pres. Obama Gave Him 'S*** Jobs' After Gay Marriage Gaffe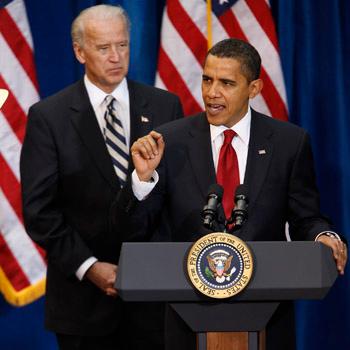 The stormy relationship between President Barack Obama and Vice President Joe Biden is well chronicled in a new interview, where the current Veep complains about how the commander-in-chief has given him "every s**t job in the world" to do, and minimized his powers, since an ill-timed statement about a hotbed issue.
The 71-year-old, speaking to Politico, said he wound up on Obama's bad side two years ago when he spoke in favor of gay marriage (at a time the Obama administration was on the record against it) and preceded the president's announcement over a change of heart on the issue.
Article continues below advertisement
Biden soon found himself as the whipping boy of Obama's cabinet, as he said he was excluded from high-level meetings and fed a steady diet of non-glamorous, low responsibility tasks in response to the slip of the tongue.
He called the demotion in tasks "totally reflective of the president's power."
Also driving a wedge between the president and vice president, Biden told Politico, were the politics at play involving Hillary Clinton, who is expected to battle Biden for the Democratic presidential nomination in 2016. (The latest Washington Post/ABC News poll had Clinton up 73 percent to Biden's 12.)
Not only did Obama appear in his first TV interview alongside her after beating Mitt Romney in 2012, his administration had even polled voters if they'd want to see her replace Biden on the ticket.
A Washington insider told the publication the vice president is "in a predicament," as "never in his entire life has he been better positioned to get the thing he most wants: the presidency.
"He's climbed almost all the way to the top. And guess what? Somebody moved the ladder. How would you deal with that?"