Teen Radio Host Blasts President Obama For 'Making Kids Gay'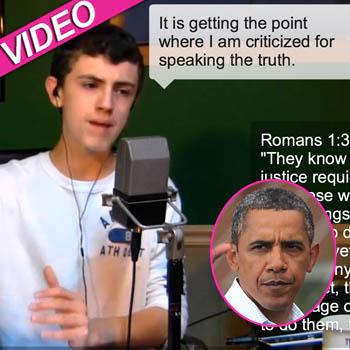 By David Perel - Executive Vice President/Managing Editor Radar
Here's someone who's not going to get an invitation to the next GLAAD event.
Caiden Cowger, a 14-year-old West Virginia radio host, blasted President Barack Obama, declaring that he "is making kids gay."
Oh, and by the way, Vice President Joe Biden is also responsible for turning children into homosexuals, Cowger asserts.
"Homosexuality is a belief. It is not mandatory in that person," Cowger says in a clip of his show that has been uploaded to YouTube.
Article continues below advertisement
"I see younger people that is turning out to be homosexuals…it's equal boy and girl both," the grammer-challenged teen said.
"We've got about 30 …teenagers in this county that I'm at that are homosexual and it is sickening," Cowger said with a straight face.
He then admits that he – GASP! – knew those homosexuals BEFORE they were homosexuals! "I think I'm going to become gay," those teens said or thought.
"Why they are becoming gay is because they are being encouraged."
And yup it was President Obama who encouraged them! The Prez apparently went to West Virginia demanding that 30 teens become gay or he would raise taxes. Wait, we made up that last part but c'mon, it sounds like something this 14-year-old ingénue would say, doesn't it?
Ok, back to Cowger's version of reality: Homosexuality is "a perverted belief and it's immoral and it's not natural. But rather than the president admitting all of that he said, 'Homosexuals you can get married. It's alright.'"
Article continues below advertisement
Cowger then revelaed that homosexuality in the animal kingdom is the fault of Melissa Etheridge, Liberace and Star Trek's George Takei. No, he didn't really say that part either but he did express outrage that he's not allowed to convert people to his religion.
Oprah & Michelle Obama At War, Trade Insults, Claims New Book
Newsweek's Controversial New Cover: 'The First Gay President'