President Obama Ribs David Beckham Over His Underwear Line!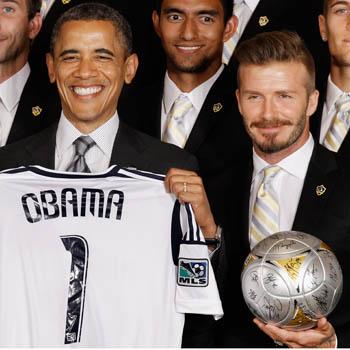 By Alexis Tereszcuk - Radar Entertainment Editor
President Barack Obama is on a roll with ribbing Hollywood stars and David Beckham is the latest target of his jokes.
Becks and the L.A. Galaxy soccer team went to the White House on Tuesday where they were treated to some good natured ribbing from the POTUS.
"We also have a young up-and-comer on the team, a guy named David Beckham," Barack said. "I have to say I gave David a hard time -- I said half his teammates could be his kids."
Article continues below advertisement
Obama continued, "We're getting old, David. Although you're holding up better than me."
Carrying on the joke, Obama took an easy shot at the handsome Brit's business ventures.
"Last year, at the age of 36, David had his best year in MLS, leading the team with 15 assists. He did it despite fracturing his spine halfway through the season, injuring his hamstring the week before the championship game. He is tough. In fact, it is a rare man who can be that tough on the field and also have his own line of underwear. David Beckham is that man."