President Barack Obama's Star-Studded Fundraiser At George Clooney's House - All The Details!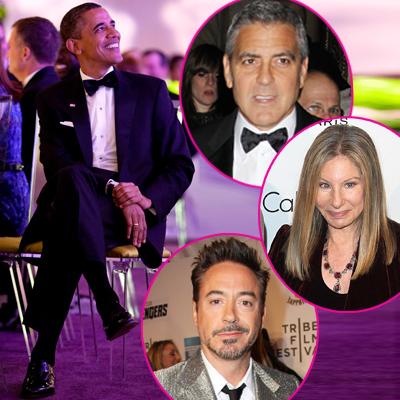 RadarOnline.com Entertainment Editor
Hollywood hailed the chief when President Barack Obama rubbed elbows with the crème de la crème of show biz Thursday night at a star-studded fundraiser hosted in a tent at George Clooney's Los Angeles home, and we've got all the details for you right here on RadarOnline.com.
The event at Clooney's Tudor-style ivy-covered stone palace drew 150 people at $40,000 a pop; added with donations, the tote was $15 million for the president's re-election campaign the Obama Victory Fund and the Democratic Party, a record for a single fundraiser.
Article continues below advertisement
Famous faces in the house -- and there were plenty of them -- included Barbra Streisand and husband James Brolin, Jack Black, Robert Downey Jr., Salma Hayek, Tobey Maguire, Diane Von Furstenberg, Trina Turk, Billy Crystal, Los Angeles Mayor Antonio Villaraigosa and Clooney's girlfriend, Stacey Kiebler.
Addressing his A-list base, the president alluded to his historic admission of support marriage earlier this week, joking, "And obviously yesterday we made some news.
"But the truth is it was a logical extension of what America is supposed to be -- it grew directly out of this difference in visions," he said. "Are we a country that includes everybody and gives everybody a shot and treats everybody fairly and is that going to make us stronger. Are we welcoming to immigrants? Are we welcoming to people who aren't like us, does that make us stronger? I believe it does. So that's what's at stake."
Article continues below advertisement
The commander-in-chief was modest about the overwhelmingly successful event.
"We raised a lot of money because people love George -- they like me, they love George!" he said. "He seems to occupy a constant state of grace, and uses his extraordinary talents on behalf of something truly important."
He added, jokingly, "I want to thank Clooney for letting us use his basketball court -- this man has been talking smack about his basketball game, ever since I've known him!"
During the proceedings, the president said his picture in Shepard Fairey's famous pop culture image Hope was taken as he sat next to Clooney in 2008.
"This is the first time that George Clooney has ever been photo-shopped out of a picture -- never happened before, never happen again."
Obama briefly touched on his expected opponent in this year's election, Republican Mitt Romney.
"As we look forward to the next campaign, the choice between the path I've set for this country and that of my opponent could not be starker and the stakes couldn't be higher," he said. "They have a different vision about how America works. See, I think we work best when we are all in it together, when we've all got a stake in each other."
Article continues below advertisement
The president also remarked on how his looks have changed since he took office in 2009, riffing off his handsome patron for the evening, Clooney.
"People have commented on the fact I've got gray hair now. There was a blog post about look how wrinkly Obama is getting-- sort of distressing. George doesn't have to go through these things."
Clooney shot back, "You look good to me!"
George Clooney And Brad Pitt Lead Fight To Make Gay Marriage Legal
Show biz powerhouse Jeffrey Katzenberg served as the night's host, kicking things off with a poignant speech praising the progress the country has seen since the president took office.
"He told us, 'Yes you can.' I think it's fair to say, 'Yes we have,'" Katzenberg said. "We are headed today in the right direction. Just yesterday, he did the right thing yet again. He did the right thing by confirming his support for every American to enjoy the blessing, privilege and dignity of marriage.
Article continues below advertisement
"As all of us can remember all too well, back in 2008, things were very, very scary," he said, noting that unemployment was high as the nation's financial crisis grew to record levels. "Then, candidate Barack Obama told us the way back would not be easy."
George Clooney On Gay Rumors: 'I Don't Give A Sh*t'
Celebrity chef Wolfgang Puck catered the event using Clooney's basketball court as a makeshift dining hall, with tables decorated with gold table cloths, and yellow and purple flowers. Delicacies such as roasted duckling and lamb and beef cheek filling the bellies of the generous attendees. The tent was decorated minimally with mirrors and hanging white paper spheres.