Ellen DeGeneres: 'Mr. President, Thank You Very Very Very Much!'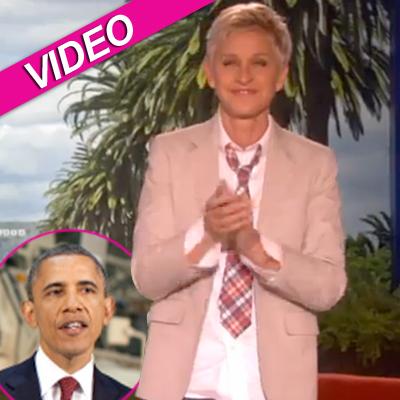 Ellen DeGeneres delivers an impassioned speech on her show Thursday, just a day after President Barack Obama became the first sitting U.S. president to declare his support for gay marriage, telling ABC News it's "important for me to go ahead and affirm that I think same sex couples should be able to get married."
Says Ellen: "President Obama just came out in support of same sex marriage and I say, 'Wow -- wow.' There have been moments in history when someone has the courage to stand up for what they believe in, and that one action changes everything.
Article continues below advertisement
"It takes a brave man to take a stand like this -- especially in a election year -- so I say, Mr. president thank you very very very much!"
On Wednesday, Ellen was one of many celebs who took to Twitter to laud the commander-in-chief for his historical words, saying she was "overwhelmed" with joy as a result.
Other reactions:
Lady Gaga: "Obama, congratulations on being the first sitting President to support marriage equality. Feels like the future, and not the past. #NoFear."
Neil Patrick Harris: "Bravo, Mr. President, and thank you."
Jane Lynch: "Pretty darn happy today. Thanks Mr President, for supporting the dignity of my family and so many others!"
Russell Simmons: "thank you Mr. President for your support of gay marriage."
Ricky Martin: "I applaud President @barackobama for affirming that ALL Americans should enjoy equal rights. Historic! I will be a very proud host on Monday."
Article continues below advertisement
Meghan McCain: "Even though he did it a little late under political pressure - very happy to hear the President come out in support of gay marriage."
The Most Surprising 3-Minute Wedding You'll Ever See!
Kim Kardashian wrote on her blog, "Wow... I just heard that President Obama has officially announced that he supports gay marriage!! This is such a huge step forward in our country's fight for civil rights and I hope that today this will give hope to so many young people across the country."
President Obama will be in Los Angeles Thursday night for a star-studded fundraiser at George Clooney's Studio City home.
Fun Flashback: Watch The Golden Girls Take On Marriage Equality