Exclusive
Joe & Teresa Giudice Preparing For 'Exhaustive Prison Sentencing' Proceedings: He's Prepared For Deportation, But Hopes Wife Gets House Arrest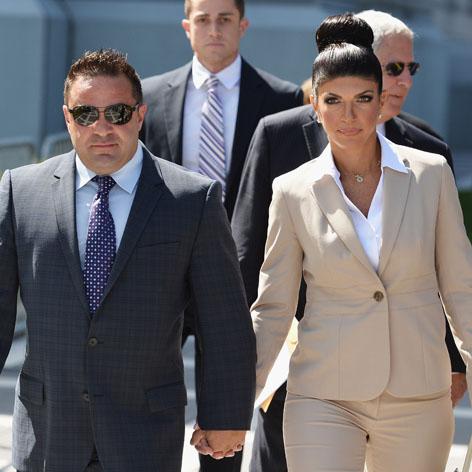 Real Housewives of New Jersey stars Teresa and Joe Giudice have officially begun their pre-sentencing proceedings, ahead of their formal July court date at which time the judge will determine if the reality stars will be going to prison, RadarOnline.com is exclusively reporting.
"Joe and Teresa will be meeting with officials from the probation department and a report will be prepared for the judge to review at the July 8 sentencing hearing. The probation report will give the judge guidance as to what prison time if any Joe or Teresa will be sentenced to," a source told RadarOnline.com.
Article continues below advertisement
"The couple will meet with officials separately. Joe is prepared to tell the probation department that he was the sole perpetrator in the crimes, and that Teresa had no knowledge."
READ: The Jaw-Dropping List Of The Giudices' Debts
According to the insider, Joe's hope is that Teresa will get a significantly lighter sentence.
"In doing this, Joe is hoping that the judge will not send Teresa to prison, and instead either give her probation, or house arrest," the source said.
"A meeting with a psychiatrist is also on the books to determine their mental health status, and how they would do if placed in prison. This is always done in these cases, and the Giudices aren't receiving any special treatment."
Teresa could be facing 27 months in prison, while husband Joe could get 46 months behind bars after pleading guilty to nine counts of mail, wire, bank and bankruptcy fraud in March.
Article continues below advertisement
"Teresa is terrified of making a wrong move between now and her sentencing. She's praying that she gets only house arrest or even probation. So she's staying out of the limelight and avoiding any situation where she will have to talk about the case."
Teresa still continues to "live in denial about the prospect about Joe being deported back to Italy once he finishes his likely prison sentence. She is hopeful that their lawyers will be able to avoid this altogether, but it isn't looking like it will happen," the source added.
"Joe is going to deal with whatever his punishment is, and if that includes being deported, he will face it. Of course, Joe would fight any attempt to be deported, but he knows his chances of being successful are slim."
Stay tuned to RadarOnline.com for further developments…