Exclusive
No Show! Bravo Execs Peeved Teresa Giudice Skipped Promo Event Because Of Legal Issues — 'They Wanted Her There'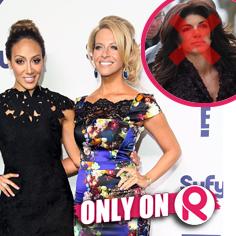 As Teresa Giudice awaits sentencing in her felony tax fraud case, it's not exactly business as usual for the reality star. Despite the fact that a judge has agreed to allow her to travel to the Big Apple for work events, Giudice was a no-show at the star-studded Bravo up-fronts on Thursday in New York City. And now, RadarOnline.com has learned that her bosses aren't thrilled.
"The network obviously wanted her there and wanted her to talk about her legal problems because they are in the show, but she just isn't willing to do any press right now," a source close to the situation told Radar about the Real Housewives of New Jersey star. "Bravo is totally stuck with Teresa."
Article continues below advertisement
They Make How Much?! The 23 Highest-Paid Reality TV Stars
"But this is putting Bravo in a really awkward situation," the source continued. "Teresa is a huge draw for the show, but of course they can't force her to do anything that would put her in legal jeopardy."
As Radar previously reported, Bravo isn't above using the Giudices' legal troubles for ratings, showing their daughter Gia crying in the trailer when talking about her parent's dire situation.
"Bravo is going to push as much as they can with Teresa," the source said. "She will eventually have to do press for the show, and hopefully won't be in jail when the reunion show films!"