Inside Joe & Teresa Giudice's Prison Nightmare: 'Real Fraudwife' & Husband Receiving Counseling From Minister As They Prepare For Likely Jail Sentences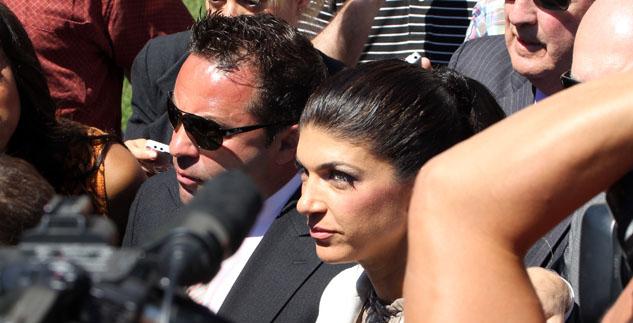 Teresa and Joe Giudice have sought spiritual counseling from their minister as the reality show television pair face the prospect of lengthy prison sentences over their fraud and conspiracy confessions, RadarOnline.com has exclusively learned.
The devout Catholics and stars of The Real Housewives Of New Jersey have been "relying on their faith to get them through this," a family insider revealed.
"This has been a very tough time for both of them… Teresa in particular is having a very difficult time leading up to their sentencing hearing (in July). She is having trouble sleeping and the prospect of being separated from her four daughters is giving her anxiety attacks. In her wildest dreams, Teresa never envisioned going to prison."
Article continues below advertisement
Teresa is hopeful "she will get probation or house arrest and intends on throwing herself at the mercy of the judge," said the insider.
"Whatever punishment is handed down, Teresa is prepared to accept it.
"Teresa is obviously devastated about the situation.
"She has been knocked off the pedestal and is now being forced to eat a big piece of humble pie. Publicly, Teresa is putting on a brave face. She is still acting like she isn't afraid of the looming possibility of spending time behind bars.
Article continues below advertisement
"Spending time with her family minister is helping during a very dark time. She has always been extremely religious and is relying on it more now than ever."
The original bank and bankruptcy fraud charges centered on the Giudice's inability to file tax returns from 2004 to 2008.
Law enforcement authorities claimed the controversial couple filed fraudulent mortgage and other loan applications from 2001 to 2008, a year before their show debuted.
"Everyone wants to book Teresa for their show or event and she love it," said one source.
"Teresa thrives on being famous and even though this is a really scary situation, the way that people are clamoring for her has really gone to her head. She really seems to have an inflated ego now."