Teresa Giudice's 'RHONJ' Co-stars Could Be Called To Testify Against 'Real Fraudwife'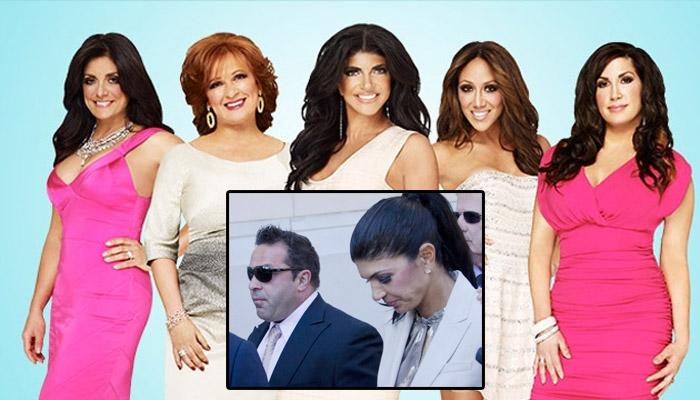 Article continues below advertisement
Producers and executives for Bravo could also be subpoenaed, a source close to the prosecution case told RadarOnline.com.
"The U.S. Attorney will be extensively going over all potential witnesses which would include her (Teresa's) co-stars on the show," the insider revealed.
"The women could be called to testify at the trial because they could have firsthand knowledge of Teresa's financial dealings, before and after the show premiered. Prosecutors could also subpoena footage from the New Jersey housewife franchise, along with producers who might also have information."
It's not known if the reality stars are prepared to testify in the trial of the reputed fraudsters or whether they were contacted by prosecutors before charges were filed.
But another source told RadarOnline.com: "This could Teresa's worst nightmare. Think of all the enemies she has on the show. Her sister-in-law Melissa, her ex-pal Jacqueline. Melissa would be more than willing to testify against Teresa. Neither one of them would fight a subpoena."
Article continues below advertisement
The Giudices were indicted on 39 charges Monday on bank and bankruptcy fraud charges. Joe Giudice is also charged with failing to file tax returns from 2004 to 2008.
Both face hundreds of years in prison and millions of dollars in fines if convicted. The pair were released Tuesday on a $500,000 unsecured bond each.
Law enforcement authorities claim the controversial couple filed fraudulent mortgage and other loan applications from 2001 to 2008, a year before their show debuted. Prosecutors said the couple submitted fake W-2s, tax returns and bank account information to lenders.
They also allege the Giudices received about $4.6 million in mortgages, withdrawals from home equity lines of credit and construction loans.
"The Giudices have been charged with very serious crimes and prosecutors are going to be going after them with a vengeance. This is a high profile case and Teresa and Joe should be taking this very, very seriously," the case insider said.
As RadarOnline.com exclusively reported, 41-year-old Teresa made her first public appearance since the scandal erupted, shilling for her products in New York City on Thursday night.
Article continues below advertisement
"You can¹t stop living," the mother-of-four told a photographer, just hours before she was brandished a "Real Fraudwife" in one New York newspaper.
In a statement this week, Teresa noted how "difficult" this indictment was on her family.
"I support Joe and, as a wonderful husband and father, I know he wants only the best for our lovely daughters and me," she said.
"I am committed to my family and intend to maintain our lives in the best way possible, which includes continuing my career. As a result, I am hopeful that we will resolve this matter with the government as quickly as possible."
Henry Klingeman, Teresa's attorney, also said he looked forward to "vindicating" his client and that she will plead "not guilty."