It Pays Not To Inhale! The Clintons Take The Title Of Wealthiest Post-White House First Family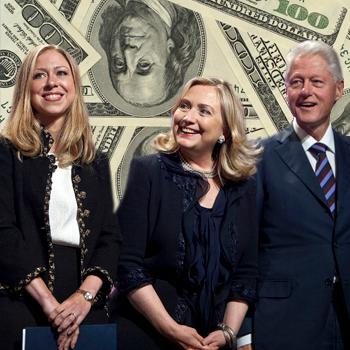 Former Pres. Bill and Hillary Clinton might have been singing the blues this week about their finances — claiming they were "dead broke" upon exiting the White House — but the presidential family of the 90s have cleaned up quite well since.
"I've never had any money until I got out of the White House, but I've done reasonably well since then," the 42nd commander-in-chief told CNN in 2010 in a grand understatement.
Article continues below advertisement
Among the daily's huge paydays include: speeches, to the tune of $106 million for Bill, and $5 million for Hillary; $40 million for fees from their memoirs; $2.6 million for Bill's presidential pension; and $2 million for Hillary's income in various high-profile political positions.
In addition, the political royals have also established themselves as first-tier philanthropists with their Bill, Hillary & Chelsea Clinton Foundation, with a $257 million in assets.
The last full year of Bill's presidency, 2000, the couple reported finances in the red, with debts. estimated between $2.3 and $10.6 million, primarily to pay their attorneys; and holdings between $781,000 and $1.8 million.
Hillary referenced the financial extremes speaking with Good Morning America this week, saying that while she and her family "continued to be blessed in the last 14 years," they "fully appreciate how hard life is for so many Americans."