More Tragedy For Julia Roberts After Sister's Suicide -- Her Mother Has Cancer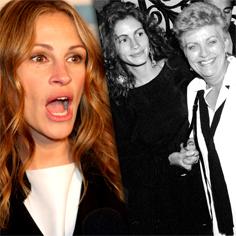 This is one awards season that Julia Roberts will likely never forget -- for all the wrong reasons.
After the suicide of Roberts' sister, Nancy Motes, on February 9, RadarOnline.com can reveal that the August: Osage County actress is dealing with yet another brutal heartbreak: Her mother, Betty Lou Motes, has lung cancer.
Roberts, 46, has secretly been dealing with the tragic news ever since November, when doctors found a cancerous tumor on Betty's lung during a routine MRI, according to a new report in the .
Article continues below advertisement
"Everyone was frantic because Betty has a history of smoking and emphysema," a source told the magazine.
In addition, Betty had a heart attack and angioplasty in 2009 and had undergone back surgery shortly before the diagnosis, which required doctors to delay her cancer treatment, the ENQUIRER has reported.
In the meantime, Julia moved her mom into her Malibu home, revealed a source. In addition, as RadarOnline.com has reported, she even changed her mother's phone number and the locks on her home, which left her estranged sister Nancy floundering.
"Betty had taken care of Nancy her whole life," the source explained. "And Nancy was suddenly left out in the cold."
Deep in debt after a gastric bypass surgery that Nancy claimed was inspired by Roberts' fat jokes and recently fired from her job on Glee, she reportedly went off the deep end.
As RadarOnline.com has reported, she launched several expletive-filled rants that seemed to be directed at her famous sister in December, calling her "an awful, hate-filled old pathetic excuse for a human," "cruel," and "a B****."
Article continues below advertisement
On January 22, she tweeted, "(M)y own family has abandoned me."
And by February 9, she was found dead -- the victim of an apparent drug overdose.
Faced with the one-two punch of her mother's illness and sister's death, Roberts has "suffered an emotional collapse," the ENQUIRER claimed.
So far, she has cancelled appearances at the Academy Award Nominees' Luncheon on February 10, an appearance on Jimmy Kimmel Live later that day and the Paris premiere of August: Osage County on February 13.
For more on Roberts' family heartbreak, pick up the latest copy of the ENQUIRER, on newsstands Thursday!