Exclusive
Julia Roberts' Sister's Body Still At Morgue, But Suicide Notes Turned Over To Her Family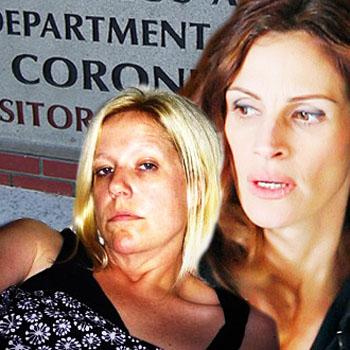 Julia Roberts' half-sister's body is still at the morgue but the suicide notes Nancy Motes left at the scene after overdosing on prescription drugs have been turned over to the family, RadarOnline.com is exclusively reporting.
"Her body is still at the morgue," a source with knowledge of the situation told RadarOnline.com, confirming Motes is still at the Los Angeles County Coroner's Office.
"The autopsy has been completed but toxicology test results will take four to six weeks."
Article continues below advertisement
According to the source, "Suicide notes allegedly written by Nancy were turned over to her family earlier this week."
Motes' tragic death has devastated her family, but funeral plans are not quite underway yet.
"A mortuary hasn't been chosen yet by Nancy's family," the source said.
Motes, who had the same mother as the Pretty Woman star, long had bad blood with her A-list sister, 46.
Prior to Motes death, she called the Oscar-winner a "b*tch" and appeared to have called her a "hag" as she vented in a series of tweets sent late last month, illustrating that their relationship likely never healed prior to Motes' untimely overdose death.
In tweets that have since been deleted, Motes on Jan. 19 wrote under the handle @Dabbs76, "So my 'sister' said that with all her friends & fans she doesn't need anymore love. Just so you all know 'America's Sweetheart' is a B—-H!!'"
She later added, "Do you want to be a fan of someone so cruel? She's not even that good of an actress. Happy you totally F—ed with me?"
As RadarOnline.com previously reported, Roberts was left devastated and anguished that she could not convince her half-sister Nancy Motes to enter rehab before her tragic drug overdose death.
A source close to Roberts previously told RadarOnline.com: "The sisters had a very complex relationship. They used to be very close when they were younger. Julia tried in vain over the years, even in the last six months, to get Nancy to go to rehab. Nancy refused the offers and that is when she would often publicly lash out at Julia.
"It hurt Julia, but she knew her sister was battling addiction.
"The addiction to prescription drugs made Nancy a totally different person. There would be periods of sobriety and with that brought clarity. It would be during those moments that the sisters would reconnect. Sadly, of course, those times became less frequent before her death."