Julia Roberts' Agony: Hollywood Star Tried To Send Half-Sister To Rehab Several Times Before OD Suicide Death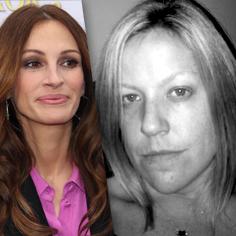 Article continues below advertisement
A source close to Oscar-nominee Roberts told Radar: "The sisters had a very complex relationship. They used to be very close when they were younger. Julia tried in vain over the years, even in the last six months, to get Nancy to go to rehab. Nancy refused the offers and that is when she would often publicly lash out at Julia.
"It hurt Julia, but she knew her sister was battling addiction.
"The addiction to prescription drugs made Nancy a totally different person. There would be periods of sobriety and with that brought clarity. It would be during those moments that the sisters would reconnect. Sadly, of course, those times became less frequent before her death."
As Radar previously reported, Motes called the Pretty Woman star a "b*tch" and appeared to have called her a "hag" as she vented in a series of tweets sent late last month.
It was yet another illustration of the pair's rocky relationship after Motes previously declared Roberts led her to take the extreme measure of having gastric bypass surgery.
"When I was in high school and she was an adult, she would just let me know that I was definitely overweight," Motes told the New York Daily News last year.
Article continues below advertisement
"She would make it quite clear to me and in a not-so-nice a manner."
In tweets that have since been deleted, Motes wrote on Jan. 19 under the handle @Dabbs76, "So my 'sister' said that with all her friends & fans she doesn't need anymore love. Just so you all know 'America's Sweetheart' is a B—-H!!'"
She later added, "Do you want to be a fan of someone so cruel? She's not even that good of an actress. Happy you totally F—ed with me?"
The family insider revealed to Radar that Roberts, 46, made arrangements for her troubled sister to check into a first class rehab facility last year.
"She had agreed to go… this was about a year ago," the source said.
"At the last minute, Nancy backed out, gave no reason. Yet, Julia told Nancy if she was ready to get healthy, all she had to do was call. Julia never got that call."
On Monday, Roberts' rep released a statement announcing the death of her Motes, as the August: Osage County star withdrew from a number of professional commitments in the wake of the family tragedy, including appearances Monday at a pre-Academy Award luncheon and one on Jimmy Kimmel.
Article continues below advertisement
"There is no official report from the Coroner's office yet," the spokesperson said. "The family is both shocked and devastated."
Nearly Unrecognizable! 20 Shocking Photos Of Stars Without Makeup
Added our source: Julia is taking the death very hard. It's extremely difficult for her because it didn't have to happen. Julia has a great support network around her and she is relying on her husband Danny Moder, more now than ever."
The star's younger sibling was also half-sister to Eric Roberts and aunt to American Horror Story actress, Emma Roberts.
If you, or anyone you know, is struggling with thoughts of suicide, please immediately seek help. You can speak with a skilled, trained counselor at a national Suicide Prevention Lifeline crisis center in your area, anytime 24/7 — call 1-800-273-TALK (8255).