Julia Roberts Boycotting Sister's Wedding: Doesn't Like The Groom & Feels Used For Money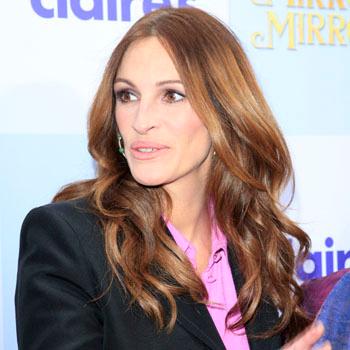 Julia Roberts isn't planning on buying a bridesmaids dress for her sister's wedding – or going for that matter.
The Pretty Woman star, whose younger half-sister Nancy Motes is planning on getting married to John Dilbeck, is boycotting the nuptials because she doesn't like the groom and doesn't want to get stuck paying for the wedding, reports the latest issue of The National Enquirer.
"Julia doesn't think much of Nancy's husband-to-be," an insider told the magazine. "She's convinced he's sponging off Nancy, who doesn't have much money in the first place."
Article continues below advertisement
The source explains that the couple moved from Georgia, where John was working at Panda Express, to Los Angeles after Nancy landed a job as a production assistant on Glee – a job Julia got for her.
This isn't the first time the siblings have fought. The magazine reported that In 2005, Julia "exploded" when she caught her little sister snapping photos of her newborn twins, and in 2011 they got into an argument went Julia made "disparaging" remarks about Nancy's weight.
"Now, Julia won't go to her wedding because she's worried Nancy will try to tap her for more money," said the insider.
For more on Julia Roberts' feud with her sister, pick up the latest issue of The National Enquirer, on newsstands Thursday.