Battle Of The Rich Kids' Bricks! Tamara Ecclestone Looking To Trump Sister Petra With $125 Million Mansion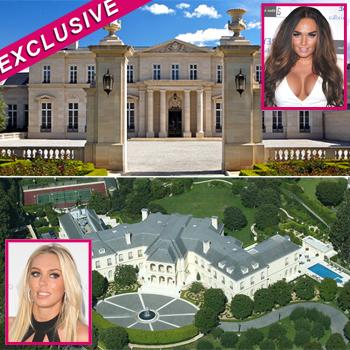 By Debbie Emery - RadarOnline.com Reporter
Anything you can do, I can do better!
The stinking rich daughters of Formula 1 billionaire Bernie Ecclestone are going head-to-head in an epic battle of the bricks, as Tamara, 28, prepares to move Stateside with the aim of outshining her 23-year-old little sister, Petra, RadarOnline.com is exclusively reporting.
The socialite-turned-reality TV star has been checking out a number of palatial estates in La La land with a view to either leasing or buying -- with several reports claiming she is particularly interested in the spectacular $125 million Fleur de Lys Estate in Holmby Hills, which was crowned the "world's most expensive house" by Forbes in 2008.
Article continues below advertisement
Owned by Suzanne Saperstein, the 45,000-square-foot home was modeled after Louis XIV's palace at Versailles and boasts a total of 12 bedrooms, 15 bathrooms, a 50-seat screening room and library, and a nine-car garage.
The humungous mega-mansion manages to significantly trump Petra's stunning Holmby Hills home which cost just a paltry $85 million -- and a source says that was the very intention!
"Tamara and Petra have always had a very strong sibling rivalry," the source says. "When they were little Tamara really wanted nothing to do with Petra, who was five years younger, whereas Petra idolized her big sister and followed her around like a puppy dog. They have grown a lot closer in recent years but they still remain extremely, extremely competitive of each other.
"Tamara has always firmly believed that she is the superior of the sisters, and that she has the higher profile in England with her TV presenting work and then her reality show. But recently, Tamara has been feeling overshadowed by Petra -- her wedding last year got an insane amount of press and then she bought that massive house in LA and they started writing about her in the U.S. as well -- whereas Tamara is still unknown in the States.
Article continues below advertisement
"Tamara does not like feeling that she's being outdone by her sister and is determined to set the balance straight again -- and put herself ahead of Petra. She has been considering getting a base in LA for some time and is now seriously looking into it. Tamara feels it is the natural next step for her career wise and that it's the only way to put her little sister back in her place, ie: in her shadow.
"She's looked at the details of a number of different properties, with the main criteria being that it HAS to put Petra's house to shame, which is no mean feat! Tamara really likes the Fleur de Lys, and what makes it all the more attractive to her is that Petra put in her own offer for the home that was turned down, before she bought the Spelling mansion -- so, Tamara feels that if she could work out a deal for the property then she's already gotten one up on Petra right off the mark."
Article continues below advertisement
As RadarOnline.com previously reported, several networks have shown an interest in signing Tamara for an American version of her reality TV show, with a the view of launching her as the "English Rose version of Paris Hilton."
Meanwhile, despite looking for a Hollywood home in which to hang her hat, Tamara intends to keep her base in London too, a $70 million historical mansion that she owns in London's tony Kensington Palace Gardens.
Not surprisingly, the spoiled heiress has taken considerable flack for her serious problem with excessive spending -- something she fully admits to.
"I am aware of the recession. My mom is always having a go at me about my spending – when she sees all the clothes in my dressing room she tells me I have mental problems. But I can't pretend this isn't my life," Tamara confessed last year.
"OK, I feel bad about it sometimes, but it doesn't make me a horrible person. I'm not going to lie and say I don't love clothes and bags.