Rage Before Death: Julia Roberts' Half-Sister Nancy Motes Called Actress A 'B*tch' In Bitter Tweet Shortly Before Her OD Suicide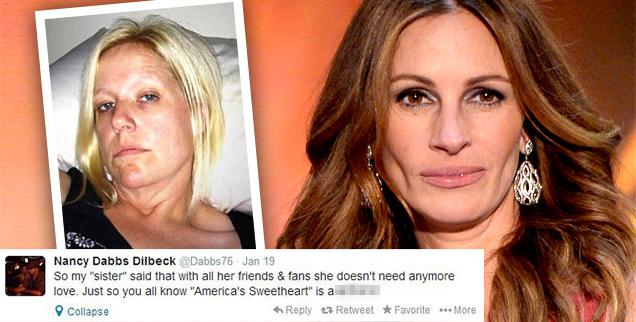 Julia Roberts' late half-sister Nancy Motes called the Oscar-winner a "b*tch" and appears to have called her a "hag" as she vented in a series of tweets sent late last month, illustrating that their rocky relationship likely never healed prior to Motes' untimely overdose death Sunday.
In tweets that have since been deleted, Motes on Jan. 19 wrote under the handle @Dabbs76, "So my 'sister' said that with all her friends & fans she doesn't need anymore love. Just so you all know 'America's Sweetheart' is a B----H!!'"
Article continues below advertisement
She later added, "Do you want to be a fan of someone so cruel? She's not even that good of an actress. Happy you totally F---ed with me?"
Three days later, on Jan 22., Motes, a professional dog walker, said that that her "own family has abandoned" her.
In a tweet, first revealed by MailOnline, sent just a few minutes later -- presumably addressed to the My Best Friend's Wedding star — Motes wrote, "Hey Hag! Glad you f-—ed with me yet? You're going to LOVE what's coming! FYI-You're an awful, hate filled old pathetic excuse for a human." (In another bizarre Twitter turn, one of the troubled woman's final tweets was to Teen Mom star Farrah Abraham, thanking her for following her account and asking, "Do you know who I'm related to?")
Motes, who had the same mother as the Pretty Woman star, long had bad blood with her A-list sister, 46.
Last May, the ENQUIRER reported that Julia was planning on skipping Motes' wedding due to the lingering tension, and concern that "Nancy would try to tap her for more money."
Julia "exploded" when she saw Motes snapping photos of her newborn twins in 2005, the ENQUIRER reported, and in 2011, they had a falling-out after the Dying Young star made "disparaging" remarks about her younger sister's girth.
Article continues below advertisement
The August: Osage County star has withdrawn from a number of professional commitments in the wake of the family tragedy, including appearances Monday at a pre-Academy Award luncheon, and one on Jimmy Kimmel.
As we previously reported, Motes was found dead at 37 Sunday in a bathtub, with authorities recovering both prescription and non-prescription drugs at the Los Angeles home she was discovered in.
Coroner's officials told US Weekly on Monday that they were looking into the overdose death "as a suicide, not a drowning," and that further tests would help suss out the likelihood of what happened.
"The investigator at the scene listed at this point that he is going with suicide," that they were "waiting for the doctor to finish the examination. We haven't gotten anything yet."
If you, or anyone you know, is struggling with thoughts of suicide, please immediately seek help. You can speak with a skilled, trained counselor at a national Suicide Prevention Lifeline crisis center in your area, anytime 24/7 — call 1-800-273-TALK (8255).