Julia Roberts' Half-Sister Nancy Motes Reportedly Left Five-Page Suicide Note, Ranted How Her Oscar-Winner Sister 'Drove Her To Do This'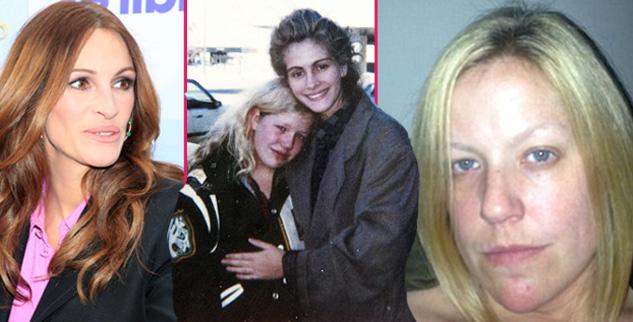 According to a new report, the tragic half-sister of Julia Roberts -- found dead in a Los Angeles home on Sunday of an apparent drug overdose — allegedly left a five-page suicide note which detailed how the the Oscar-winning actress supposedly "drove her to do this".
Nancy Motes, 37, was found dead in a bathtub, with authorities recovering both prescription and non-prescription drugs nearby.
"It was definitely a suicide. She left a five-page suicide letter. The EMT found it," a unnamed source told the New York Daily News on Wednesday afternoon.
Article continues below advertisement
Although the letter has not been released, the source said: "There were three pages of rantings that her sister drove her to do this. There was one page to her mom, telling her how much she loved her, and one page apologizing to (her fiancé John Dilbeck)," the source said.
Los Angeles County Coroner spokesman Capt. John Kades confirmed to Reuters a suicide note may have been found in the home.
Motes, who had the same mother as the Pretty Woman star, long had bad blood with her A-list sister, 46.
Prior to Motes death, she called the Oscar-winner a "b*tch" and appeared to have called her a "hag" as she vented in a series of tweets sent late last month, illustrating that their relationship likely never healed prior to Motes' untimely overdose death.
In tweets that have since been deleted, Motes on Jan. 19 wrote under the handle @Dabbs76, "So my 'sister' said that with all her friends & fans she doesn't need anymore love. Just so you all know 'America's Sweetheart' is a B—-H!!'"
Article continues below advertisement
She later added, "Do you want to be a fan of someone so cruel? She's not even that good of an actress. Happy you totally F—ed with me?"
As RadarOnline.com previously reported, Motes struggled with her weight her entire life and claimed taunting from Julia led her to take the extreme measure of gastric bypass surgery.
"When I was in high school and she was an adult, she would just let me know that I was definitely overweight," Motes told the Daily News last year.
"I think that growing up as Pretty Woman's little sister has definitely made me try to see the person inside and not the person outside," she said. "A lot of my life I felt judged for my weight."
If you, or anyone you know, is struggling with thoughts of suicide, please immediately seek help. You can speak with a skilled, trained counselor at a national Suicide Prevention Lifeline crisis center in your area, anytime 24/7 — call 1-800-273-TALK (8255).