Death Of Nancy Motes: Pal Says Julia Roberts Alienated Late Sister From Mom, Star No-Shows Premiere, 'Glee' Set Mourns For Lost Peer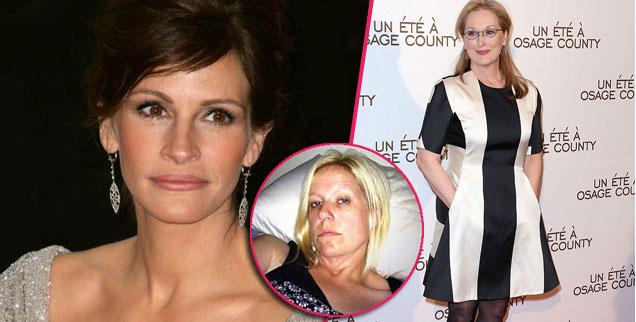 We've got all the latest developments in the death of Julia Roberts' half-sister Nancy Motes, including a sizzling allegation about the Oscar-winner's actions prior to her sister's overdose suicide, Roberts' absence on the red carpet during an industry event Thursday, and reaction from the set of Glee, which has been rocked by its' third death in the past seven months with Motes' death.
The NY Daily News spoke with Motes' friend Jerem Hutcheson, who said that it was Roberts who caused a rift in the relationship between Motes and their mother Betty Lou Motes last summer. He said that Julia went so far as to cut contact between the two, by changing her numbers and the locks on Betty Lou's door, after she was enraged her sister made negative comments about her to a media outlet.
Article continues below advertisement
"Nancy was very close with her mom, and when they changed the locks and relocated her, it was devastating to Nancy," Hutcheson, a pal of both the late woman and her fiancé John Dilbeck, told the paper. "I think Roberts was resentful of the relationship Nancy shared with their mom, and also did it out of spite.
"Nancy didn't have a drug problem. She had an overly-emotional moment and acted on it. Every time I saw her, she was happy and excited about her wedding. But her depression compounded really fast … she couldn't reach her mom when she needed her most."
The paper reported they'd reached out to the family for comment regarding the details of their report, but had yet to hear back as of early Friday.
Julia was a no-show at Thursday's Parisian première of her Oscar-nominated film August: Osage County, with director John Wells and co-star Meryl Streep walking the red carpet in her stead.
The 46-year-old A-lister, nominated for best supporting actress for her work in the critically-acclaimed film, also skipped an Oscars luncheon in Beverly Hills this week in the wake of her sister's death. It is not yet known whether she'll pass on attending the actual ceremony, which is slated for Mar. 2.
Article continues below advertisement
Elsewhere, the Glee set where Motes worked as a production assistant continues to be shrouded in grief following star Cory Monteith's fatal heroin overdose last July, and assistant director Jim Fuller's death in Sept. from a suspected heart failure.
"Yes, she had her own little struggles, but when we got together, we just bonded and she never let them get to her," Motes' colleague Cristina Lageman told MailOnline.com. "The good thing about Nancy is that we could talk about stuff, we would vent to each other, she was very open.
"She was just a lovely, lovely woman. Very sweet, very trusting. You could always talk to her and share with her if you were having a bad day."
Lageman, a production assistant as Motes was, opened up about the show's tragic toll since last summer.
"We've got this hit and it's almost too much -- Glee was like a family, we spent 12 hours a day together. We would refer to each other as 'The Glee Family.' It doesn't matter if you've been there for one day or six months, you're part of the family at Glee. Everyone is always so welcoming, it was my favorite show to work on."
Article continues below advertisement
Lageman, a production assistant as Motes was, said she expects the show to pay homage to their fallen peer.
"They did a special tribute for Cory and Jim, I'd expect the same for Nancy. I went to Jim's funeral and it was very far away so only a few went from Glee, but we had a memorial for him at a place in Venice where he loved to go to. It was really beautiful and everyone was there, the cast and crew all together, and we were all telling stories."
As we previously reported, Motes was found dead at 37 Sunday in what officials indicated was a suicide via overdose, with Los Angeles County Coroner's Assistant Chief Ed Winter confirming to Yahoo that numerous "notes were found at the scene," as well as "both prescription and nonprescription pills." (Toxicology tests remain pending in Motes' death, Winter said, adding the results could take up to 10 weeks.)
If you, or anyone you know, is struggling with thoughts of suicide, please immediately seek help. You can speak with a skilled, trained counselor at a national Suicide Prevention Lifeline crisis center in your area, anytime 24/7 — call 1-800-273-TALK (8255).