Julia Roberts' Half-Sister Nancy Motes Deliberately Planned Suicide To Thwart Star's Oscar Bid, Fiancé's Brother Claims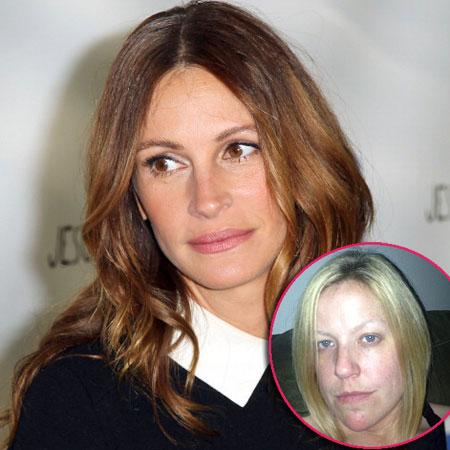 Julia Roberts' late half-sister Nancy Motes commit suicide -- and left a damning letter in doing so -- to injure the starlet's image and career, and potentially cost her an Oscar at next month's Academy Awards, her fiancés brother said Tuesday.
Conner Dilbeck, brother of Motes' fiancé John Dilbeck, told MailOnline.com that the late dog walker understood what a PR disaster a suicide scandal would be to Roberts' sweetheart image in the heat of award season -- and hoped it would hit its' intended target with full impact.
Article continues below advertisement
"We are talking about people who are powerful; people who have very delicate power, people who are in the limelight," he said. "Their power can be destroyed very easily if unfortunate things make them look more wicked.
"They have to be careful, it can destroy their career or their Academy Award." (Roberts, who won the Best Actress award in 2000 for Erin Brockovich, is up for Best Supporting Actress for her role in August: Osage County this year.)
Conner also took to his Facebook page to expound on his point, saying that he "was told that Nancy wanted the Truth to come out" via the suicide letter she reportedly sent to illuminate the public on the cold, sullen treatment Motes received from Roberts and her family.
Conner continued, saying that Motes "was driven to Take her Life yesterday because of the Pure Cruelty of her Sister, Julia Roberts(yes Ms. Pretty Woman herself), that has done everything in her power to Ruin her and my brothers lives."
Article continues below advertisement
Conner added that the Oscar-nominated beauty subjected her 37-year-old half-sister and her fiancé to much turmoil.
"Nancy wanted the Truth to come out," he wrote, "and she was Willing to Die to get her point across."
In related news, a friend of Motes said Tuesday that the Roberts clan are "crying crocodile tears" over Motes' death and "never cared of her when she was alive."
That stands in contrast with our report that the star's family had made numerous attempts to get her into a rehab clinic, with an insider telling us that "Julia tried in vain over the years, even in the last six months, to get Nancy to go."
"It hurt Julia, but she knew her sister was battling addiction," the insider told us. "The addiction to prescription drugs made Nancy a totally different person. There would be periods of sobriety and with that brought clarity. It would be during those moments that the sisters would reconnect. Sadly, of course, those times became less frequent before her death."
John Fraschetti, speaking outside the home Motes shared with John Dilbeck, said that her family "drove her to death" by rejecting her last August, and that the troubled Motes "just couldn't handle it anymore" prior to her overdose Sunday.
Article continues below advertisement
Fraschetti called the Pretty Woman star "the actress woman who is pretending to grieve, but she didn't want to deal with Nancy, and made her f***ing miserable."
He said that Motes' family "have taken control of this situation, but they … didn't care when she was alive.
"She was a handful, and yes she had her problems, but there's a way to deal with your relatives."
The past holiday season took a major toll on the emotionally-vulnerable Motes, Fraschetti said.
"It hurt her that none of her family wanted to be with her," he said. "She had a miserable Christmas, truly awful, and I think she just couldn't handle it anymore."
Fraschetti said he saw a five-page suicide letter Motes left for those who found her, which "read about how much she loved and cared for her fiancé and how happy he made her.
"But it also said how unhappy and depressed her family made her and how she couldn't cope anymore."
Article continues below advertisement
As we previously reported, Motes vented on her sister Jan. 19, writing under the Twitter handle @Dabbs76, "So my 'sister' said that with all her friends & fans she doesn't need anymore love. Just so you all know 'America's Sweetheart' is a B----H!!'
"Do you want to be a fan of someone so cruel? She's not even that good of an actress. Happy you totally F---ed with me?"
Motes was found dead at 37 Sunday in a bathtub, with authorities recovering both prescription and non-prescription drugs at the Los Angeles home she was discovered in.
If you, or anyone you know, is struggling with thoughts of suicide, please immediately seek help. You can speak with a skilled, trained counselor at a national Suicide Prevention Lifeline crisis center in your area, anytime 24/7 — call 1-800-273-TALK (8255).