Death Of Nancy Motes: Fiancé Says Julia Roberts' Half-Sister Wasn't A Drug Addict, As Possible Estate Battle Brews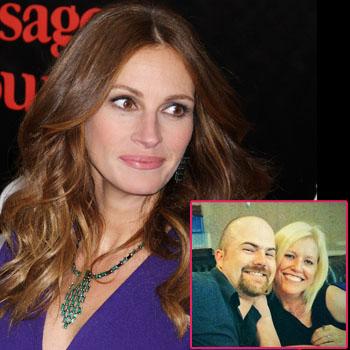 We've got all the latest developments in the death of Julia Roberts' half-sister Nancy Motes, including a reaction from her fiancé John Dilbeck, and a look at the lurking conflict between her grieving partner and surviving family members.
As we previously reported, Moats was found dead at 37 Sunday in what officials indicated was a suicide via overdose, with Los Angeles County Coroner's Assistant Chief Ed Winter confirming to Yahoo! that numerous "notes were found at the scene," as well as "both prescription and nonprescription pills." (Toxicology tests remain pending in Moats' death, Winter said, adding the results could take up to 10 weeks.)
Article continues below advertisement
On Wednesday, MailOnline.com that caught up with Dilbeck as he ran errands in Santa Monica, Calif; asked if he thought Motes was a drug addict, he shook his head sideways, gesturing, "No."
When the outlet asked Dilbeck if he'd been in touch with the Pretty Woman star, amidst reports of serious dissension between his camp and his late fiance's family, he said he had "no comment at this time."
While Dibeck wasn't talking, a source close to the situation told the NY Post that he'll be pushing to keep Moats' belongings as the sole beneficiary of her estate, which would have implications involving the Oscar-winner.
"If Nancy had photos and wrote a diary, describing her feelings towards her sister, he could use them," the source said. "There is a fear that John could be holding Nancy's personal items hostage and possibly sell them to the highest bidder.
"While Nancy wasn't a wealthy woman, she would have had gifts given to her by Julia, as well as intimate family pictures."
The source said that longstanding hard feelings between Dilbeck and Moats' relatives stemmed from the fact that Roberts and their mother, Betty Lou Motes, "felt that he was a bad influence on" Nancy.
Article continues below advertisement
"Julia and her mother had tried for a long time, for years, to get Nancy to go into rehab, and she repeatedly refused," the source told the paper. "They did not approve of John … but you can't tell someone of Nancy's age whom not to date."
On Tuesday, Dilbeck's brother Connor publicly chided Moats' family for their treatment of the late dog walker, and said he believed that the late woman timed her suicide to put a dent in Roberts' Oscar chances next month. (Roberts, who won the Best Actress award in 2000 for Erin Brockovich, is up for Best Supporting Actress for her role in August: Osage County.)
If you, or anyone you know, is struggling with thoughts of suicide, please immediately seek help. You can speak with a skilled, trained counselor at a national Suicide Prevention Lifeline crisis center in your area, anytime 24/7 — call 1-800-273-TALK (8255).