Exclusive
Julia Roberts' Tragic Sister Was 'In Pain' & 'Longed For Closer Relationship' With Her, Fiancé Reveals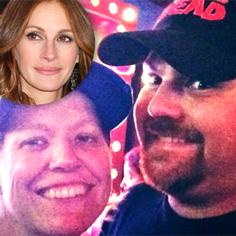 Despite Twitter rants from Julia Roberts' sister Nancy Motes calling the star a "b*tch" in the weeks before her death from an apparent drug overdose, Motes' grieving fiancé John Dilbeck has spoken out to RadarOnline.com to claim that all Motes ever wanted was a better relationship with her famous sister and the rest of her family.
The shocking and hateful "words she wrote in online venues were those of someone in pain who loved her family and longed for a closer bond with them," Dilbeck says in a new statement on behalf of himself and his family.
Article continues below advertisement
Far from a bitter, jealous sibling, he says, "Nancy was a kind and thoughtful person quick to give a hug of share her memorable laugh."
Now, the man she left behind is "heartbroken," the statement claims. "We loved her dearly and will miss her always."
As RadarOnline.com has reported, Motes was found dead of an apparent drug overdose just 20 months after undergoing gastric bypass surgery, which she claimed was a choice motivated by her sister's alleged fat jibes.
Earlier this year, she posted several rants of her own aimed at her sister on Twitter, writing, "Just so you all know, 'America's Sweetheart' is a B___H!"
She later added, "Do you want to be a fan of someone so cruel? She's not even that good of an actress."
One tweet even seemed to suggest that she was planning her suicide to mess with Roberts' Oscar race for August Osage County, a claim Conner Dilbeck, the brother of Motes' fiancé supports.
"Nancy wanted the Truth to come out," he wrote on his Facebook page, "and she was Willing to Die to get her point across."
Toxicology results remain pending in Motes death, and her fiancé insists she was not an addict.