Just When You Thought North Korea Couldn't Get Any Weirder! Dennis Rodman & Kim Jong Un Become 'Friends For Life'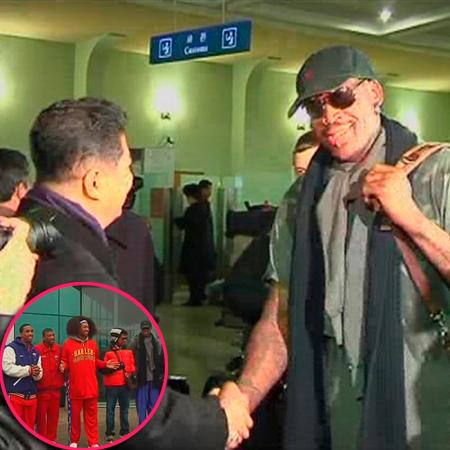 Never underestimate the unifying power of sports!
Americans can now sleep easier without fearing the growing nuclear power of North Korea, as the future of U.S. relations with the isolated Communist dictatorship is safely in the hands of outrageous ex-NBA star Dennis Rodman!
The eccentric former Chicago Bulls player, who is better known for his gold grillz, rainbow of hair colors, countless tattoos and piercings and crazy antics that included wearing a full wedding dress to promote his autobiography, is an unlikely candidate to spearhead the "secret visit" that he is calling "basketball diplomacy."
Article continues below advertisement
Article continues below advertisement
After the matchup, the grateful guest thanked his generous host for the invitation, assuring him: "Although relations between the two countries are regrettable, personally I am a friend of Marshal Kim Jong Un and the DPRK people," he said, according to Chinese news agency Xinhua.
A Wrong Turn Gives Chilling Insight Behind The Propaganda Of Pristine North Korea
Later the firm friends' antics got a lot more raucous when hard-partying Rodman enjoyed a night on the town with North Korea's latest number one, who reportedly plied Dennis and his entourage with free liquor, prompting VICE producer Jason Mojica, who was along for the crazy ride, to tweet, "Um… so Kim Jong Un just got the #VICEonHBO crew wasted… no really, that happened."
Article continues below advertisement
Rodman, who has five NBA championship rings filling up his fingers, arrived in Pyongyang Tuesday with the Harlem Globetrotters and a VICE television crew to shoot a documentary about North Korea for HBO, and the group are scheduled to be there until March 5.
"We here at VICE are very pleased that Kim Jong Un could make it to the game and that everyone enjoyed themselves so much," founder Shane Smith said in a statement. "To see everyone letting their hair down and getting into the match made it all the more worthwhile. At the reception afterwards many kind words were spoken and invitations offered. The pictures of the game speak for themselves. And you gotta love the Harlem Globetrotters. They'll put a smile on anyone's face."
radar_embed service=youtube src="https://www.youtube.com/embed/i82PBpw2Vg0" width="560" height="315"