UN Security Council To Discuss Failed North Korean Rocket Launch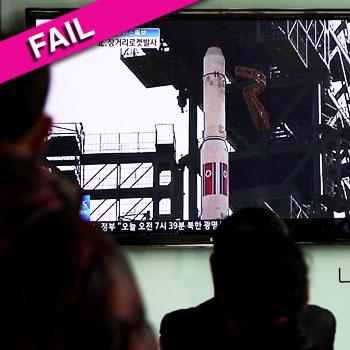 The United Nations Security Council will convene Friday to discuss North Korea's failed rocket launch, as many world leaders speculate the controversial display was a subtle dry run for the atomic missile technology the country's believed to be developing.
The launch of the $800 million Unha-3 carrier Thursday ended in failure, as the rocket wound up in pieces in the Yellow Sea less than two minutes after it was launched, humiliating the country and its new leader Kim Jong-un, the successor to his late father Kim Jong Il.
Article continues below advertisement
The rocket launch was hyped as a display to the 100th anniversary of the country's late founder Kim Il Sung.
While both South Korea and the United States reported news of the rocket's failure instantly on Thursday, the government-operated Korean Central News Agency dragged its heels in relaying the news, eventually conceding the rocket "failed to enter its preset orbit.
"Scientists, technicians and experts are now looking into the cause of the failure."
The White House, reacting to the launch, has frozen plans to supply food aid to North Korea.
According to a statement issued by the White House Thursday, the ill-fated rocket "threatens regional security, violates international law and contravenes its own recent commitments.
"While this action is not surprising given North Korea's pattern of aggressive behavior, any missile activity by North Korea is of concern to the international community," the statement read. "The United States remains vigilant in the face of North Korean provocations, and is fully committed to the security of our allies in the region."