Bride Indicted For Faking Cancer To Score Dream Wedding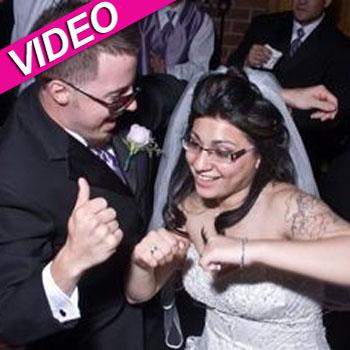 By Debbie Emery - RadarOnline.com Reporter
A bride who claimed to have cancer to get the wedding of her dreams has walked down the aisle and into a prison, after being indicted for five counts of felony grand larceny and one count of scheme to defraud.
Jessica Vega, 25, of Montgomery, New York, tore at the heartstrings of both friends and strangers two years ago when she told them all she was dying of acute myeloid leukemia and that her last wish was to marry Michael O'Connell, the father of her young daughter, before she died, reported the Times Herald-Record.
Article continues below advertisement
The money-grabbing bride then allegedly accepted thousands of dollars of donated services and goods, including conning her dream wedding dress from struggling boutique owner Keri Ciastko of Bliss Bridal in New York.
"She pulled at my heartstrings. I've lost a lot of family members to cancer, so I did everything I could to help her," she told ABCNews.com.
Vega was arraigned on Friday and is currently held in the Orange County Jail on $10,000 cash or $30,000 bond facing up to four years in prison.
"By pretending to have a terminal illness, Vega inexcusably took advantage of the community's hearts and minds, and profited off of their generosity," Attorney General Eric Schneiderman said. "Our office will hold this individual accountable for fleecing the public through lies and deception."
Vega and O'Connell tied the knot in May 2010, after which they hopped on their free flights to Aruba for a romantic honeymoon. Wedded bliss did not last long however, and just four months later the conwoman's husband accused her of faking her illness and demanded a letter of proof from her doctor.
Article continues below advertisement
The deceit soon led to divorce and O'Connell moved to Virginia to make a new start but Vega has since followed him and they now have a second child together.
"She's a good mom, and that's all that counts at the end of the day," said Michael, despite having cooperated with the attorney general's investigation that led to her arrest. "I want my kids to have their mother back."
He believes she should repay the money but doesn't deserve prison time, which is why he paid for her attorney, "because it's the right thing to do."
MORE ON:
Celebrity Justice
Vega is next due in court on April 20.
Watch video of the bride below: