Good Morning North Korea! Haunting Video Gives Rare Glimpse Inside The World's Most Closed Country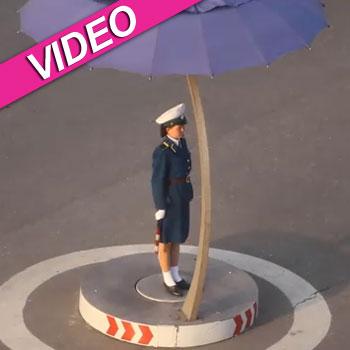 By Debbie Emery - RadarOnline.com Reporter
In a sharp contrast to the hustle and bustle of Seoul, Shanghai and Tokyo, the streets of the North Korean capital city Pyongyang are eerily empty, as revealed in a mesmerizing video, which you can watch here on RadarOnline.com.
The largest city in the Communist country resembles a ghost town as haunting footage shows people-less pavements, car-free roads and the clear open water of the Taedong River.
Article continues below advertisement
The scene is further enhanced by the backdrop of chilling classical music that is piped through a speaker system and broadcast live around the city, which also airs patriotic songs and public service announcements alerting people to be on the look out for spies or traitors.
Despite a population of 3,255,388, there is hardly a soul in sight apart from a lone traffic cop in a prim blue and white uniform directing invisible cars under the shade of a large lilac umbrella.
Elsewhere, maintenance workers sweep up the pristinely clean streets, or pick up non-existent trash.
It's a fascinating and rare glimpse inside what is known as the world's most closed country, where visitors are closely vetted and monitored and press is tightly controlled with an iron grip by the North Korean regime.
Meanwhile, diplomatic relations between the world and North Korea are set to be even further strained as it gears up to launch its latest long-range rocket in defiance of threats of "appropriate action" from the U.S. Secretary of State Hillary Clinton.