Exclusive
Veterans Group Slams Marines In Shocking Viral Video For 'Deplorable Behavior'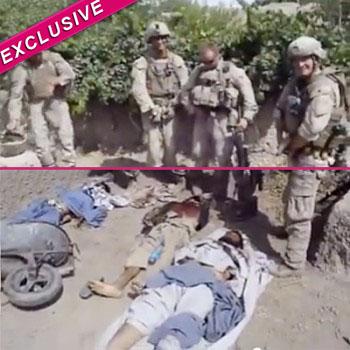 Article continues below advertisement
"The behavior is deplorable and inexcusable."
As RadarOnline.com previously reported, a U.S. defense official told ABC News that two of the four Marines involved have been interviewed by officials about the clip, in which the men are gathered around the dead bodies, with one saying, "Golden F***ing showers!" while another one says, "Have a great day, buddy" in the direction of one of the bodies.
In their statement, the IAVA adamantly stressed that the actions of the soldiers should be considered an isolated incident.
"This was an act perpetuated by a small few. It in no way reflects the behavior of the almost 2.4 million Americans who have served honorably in Iraq and Afghanistan since 9/11."
The shocking incident might lead to jail time, as it might have violated the first Geneva Convention, and the IAVA says it supports a full investigation of this incident from officials at the Department of Defense and within the Marine Corps.
Article continues below advertisement
"We won't stand by while our service to our country and our allies is tarnished by the actions of a few," explained Rieckhoff.
"Our troops and veterans are already facing enormous challenges and stereotypes both overseas and at home, and we encourage the public and media worldwide to refrain from rushing to stereotypes.
"For 10 years, our troops have served honorably in unimaginably tough conditions - and they continue to do so in Afghanistan and around the world. This incident does not reflect the service, leadership and honor of our new generation of veterans," he concluded.