Exclusive
Iranian-American Given The Death Penalty Is 'Victim Of Tensions With Iran And America'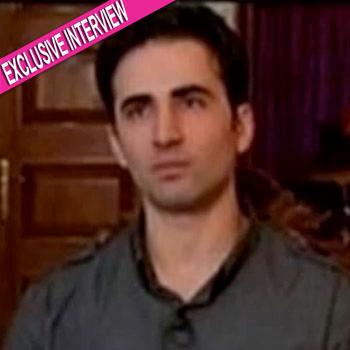 By Debbie Emery - RadarOnline.com Reporter
Currently locked in a prison cell in Tehran after being sentenced to death, Iranian-American Amir Hekmati is an unfortunate victim of the increased tensions between Iran and the U.S., a Middle Eastern expert at Amnesty International exclusively told RadarOnline.com.
"His treatment falls into a very known pattern of people who are trotted out and accused of espionage," Elise Auerbach, Iran Country Specialist of Amnesty International USA told RadarOnline.com in an exclusive interview.
Article continues below advertisement
However, it is the severity of the sentence that is unusual and is shocking to the human rights group.
"Espionage in theory can carry the death penalty but since the revolution in 1979 this is the first time that a U.S citizen has been sentenced to death for such a charge," explained Auerbach.
Another worrying aspect of the 28-year-old former Marine's case is that unlike in America where convicted criminals can live on death row for years, Iran is not conservative when it comes to carrying out executions.
"For a number of years, Iran has been the number two executioner in the world after China and that has spiked recently," said Auerbach.
"There were at least 600 executions in 2011 and indications show that there has already been 40 in 2012, and we're only 11 days into the year."
According to his family, who live in Flint, Michigan, Hekmati traveled to Iran to visit his elderly grandmother who had been ill.
Article continues below advertisement
Despite declaring that he had served in the U.S. military and obtaining permission from the Iranian Interests Section of the Pakistani Embassy in Washington D.C., the businessman was arrested in August 2011 and charged with allegedly spying for the CIA.
Along with his background as a former Marine, Hekmati's business involvement in a reality-based war video game, his Iranian heritage, and linguistics work he did for the Defense Advanced Research Projects Agency, could all have contributed to why he became a target of the Iranian authorities, reported the New York Times.
Arizona-born Hekmati confessed to the crime, but our Amnesty International expert explained that is no indication of guilt and forced confessions are common place in Iran.
"The confessions that are made under coercion are used as the primary piece of evidence," Auerbach told RadarOnline.com. "They pressure people and force them to make confessions, which are televised on TV.
"I watched Amir's confession and it looked very suspect to me, you could tell he was exhausted and he was under a lot of pressure."
Article continues below advertisement
The defendant has 20 days to appeal the sentence, which was announced on Monday, but we do not now exactly when it was passed down. The next step is "a revolutionary court and they do not adhere to international standards for fair trials," explained Auerbach.
"The family wasn't able to retain a lawyer of his choice, the court appointed lawyer only met with him on the day of his trial."
As his family anxiously campaign Iran for compassion, Auerbach stated that his best chance at winning the appeal is to bring as much attention to his cause as possible.
"He will now be entering into the appeal process but in actuality this is a highly publicized case and it will be taken at a very high level. The appeal process will be an irrelevant side-show and the real main show is the political jockeying around it."
Although she thinks it is unlikely that Amir will be executed, a Dutch-Iranian woman was unexpectedly hanged in January 2011 after being charged with drug smuggling.
Article continues below advertisement
"That took me by surprise and was very shocking. It proves we can't be complacent about this and we have to do our very best as tensions are high," she said, urging supporters to send letters of appeal.
"The only way that anything ever happens is when the media and public pressure hammer the Iranian government."
For more information on the case, visit AmnestyUSA.org.
RELATED STORIES: