VIDEO: Russian Spy Anna Chapman May Be In Trouble Again After Leaking Sexy Photos Online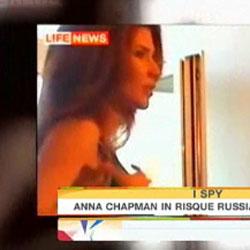 Russian spy Anna Chapman is at the center of controversy, yet again.
Watch the clip on RadarOnline.com
The sexy redhead, made famous as one of 10 admitted Russian spies deported earlier this summer in a banner exchange between the U.S. and Russia, starred in a glamorous photo shoot for Russian glossy magazine Zhara at an upscale hotel located near the Kremlin last month.
Chapman, 28, then posted images from the photo shoot on Facebook a week before the magazine was set to hit newsstands, leading to the magazine to file a legal complaint against the femme fatale on claims of copyright violation. (After posting the pics, Chapman took them down soon thereafter and posted a message warning others not to reproduce the image.)
Article continues below advertisement
As RadarOnline.com previously reported, Chapman was arrested in New York City June 27 and deported back to Russia July 8. The spies were given a heroic welcome upon their return to their home country.
Visit msnbc.com for breaking news, world news, and news about the economy