Marines In 'Inhuman' Viral Video Identified, Could Face Criminal Charges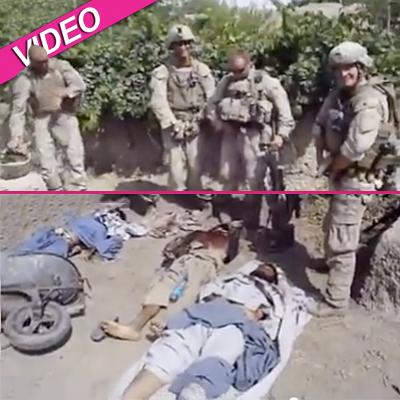 Warning: This story contains explicit details and video.
Authorities have now identified the four Marines, seen in a disturbing viral video, urinating on three dead bodies in Afghanistan, and the men might be criminal charged in connection with the incident.
A U.S. defense official told ABC News two of the four have been interviewed by officials about the clip, in which the men are gathered around the dead bodies, with one saying, "Golden F***ing showers!" while another one says, "Have a great day, buddy" in the direction of one of the bodies.
Article continues below advertisement
The incident might lead to jail time, as it might have violated the first Geneva Convention, which commands the dead be "honorably interred" and that "graves are respected."
The servicemen are members of a sniper team out of Camp Lejeune, North Carolina, officials previously told NBC; while their names have been identified, they have not been made public.
Secretary of State Hillary Clinton said she was dismayed learning about the video.
Watch the video on RadarOnline.com
"It is absolutely inconsistent with American values, with the standards of behavior that we expect from our military personnel and the vast, vast military personnel, particularly our Marines, hold themselves to," Clinton said on Thursday.
Afghan President Hamid Karzai said in a statement Wednesday his government "is deeply disturbed by a video that shows American soldiers desecrating dead bodies of three Afghans.
"This act by American soldiers is simply inhuman and condemnable in the strongest possible terms."