Sorry Ladies! North Korea's New Leader Kim Jong-Un Secretly Wed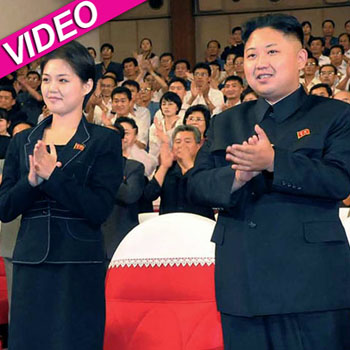 By Debbie Emery - Radar Reporter
Sorry ladies, he's taken! North Korea's new leader Kim Jong-un has gotten secretly married.
After months of speculation over the mystery woman who has repeatedly been spotted by his side recently, the North Korean state media confirmed Wednesday that the pair had tied the knot, reported the BBC.co.uk.
The lucky lady has been identified as comrade Ri Sol-ju, and the newlyweds enjoyed a day out at an amusement park this week to celebrate the opening of the Neung Ra People's Resort.
Article continues below advertisement
"As welcome music played, our Marshal Kim Jong-un and his wife comrade Ri Sol-ju came to the inauguration," the announcer read to the Communist country's radio listeners.
Dressed in a Western style black skirt, burgundy jacket and black heels, Ri was shown walking alongside Kim at the resort followed by Kim's uncle Jang Song-Taek, the Vice Chairman of National Defense Commission. In another scene, she was seen sitting on the right side of Kim while being briefed by officials.
As RadarOnline.com previously reported, the Western world has been wondering who the woman was by Jong-un's side since she was spotted at a rare Disney stage show earlier this month, and rumors spread that she was a a new girlfriend, secret spouse or even a younger sister.
Just like many aspects of the Communist country, little is still known about the new bride and while there is a North Korean singer with the name Ri Sol-ju, it has not been confirmed that they are the same woman.
Article continues below advertisement
The unveiling of his new wife epitomizes the increasingly informal style that Kim is cultivating in North Korea since taking over leadership following his father's death last December.
Last week authorities performed a military reshuffle widely interpreted by analysts as an attempt to stamp the authority of the new leader on North Korea's powerful army.
Believed to be in his late twenties and educated in Switzerland, Kim has ordered comparatively liberal policies such as allowing women to wear pants at public events, encouraging foreign restaurants to be opened and was even spotted earlier this year visiting a fast food joint!