A Wrong Turn Gives Chilling Insight Behind The Propaganda Of Pristine North Korea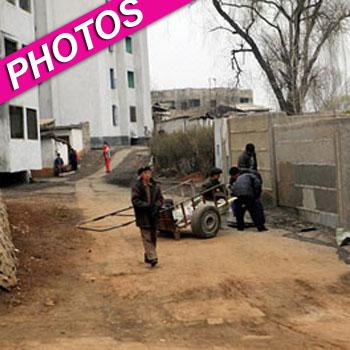 By Debbie Emery - RadarOnline.com Reporter
A bus load of reporters on an official trip to North Korea got a very different glimpse of the Communist country than their hosts wanted them to see when they took a wrong turn on Thursday, and RadarOnline.com has fascinating photos behind the Pyongyang propaganda machine.
Instead of the quiet streets and pristine, people-less neighborhoods that the government wants to portray to the world, the Western reporters were treated to the sight of clouds of dust swirling down deeply potholed streets, gray and dreary concrete apartment buildings crumbling at the edges and elderly people weighed down by handmade backpacks, reported the Associated Press.
Article continues below advertisement
It was a rare insight into the secretive, autocratic nation as it prepared for its now failed satellite launch, which Washington claims was really a test of missile technology.
The 50 news gatherers were supposed to be witnessing meticulously staged presentations showcasing the success of three generations of leadership under the Kim family, and their inquisitive minds were fascinated to see the hidden side of the city as the three drivers desperately tried to back the buses out and get back on course.
According to the AP, if the group diverted from the press tour or walked from the few hotels where foreigners are allowed, they would be at risk of being detained by the police and threatened with expulsion.
"They've left very few stones unturned in North Korea," said Anthony Brunello, a professor at Eckerd College in St. Petersburg, Florida, who has studied totalitarian propaganda methods. "They've managed to create a process of control that works."
Article continues below advertisement
Most visitors to the country's capital city never see a pothole, trash, graffiti or a disabled or poor person, but those who sneak behind the curtain have a Wizard of Oz experience that includes impoverished areas that are pitch dark at night, and crippled workers struggling with wheelbarrows of coal by day.
Ironically, even the rundown areas of Pyongyang that the journalists accidentally stumbled upon would appear posh to most of the rest of North Korea outside the capital, a quarter of whom depend on international food aid and live in homes without electricity or running water.