Former NBA Star Dennis Rodman Sentenced For Being A Deadbeat Dad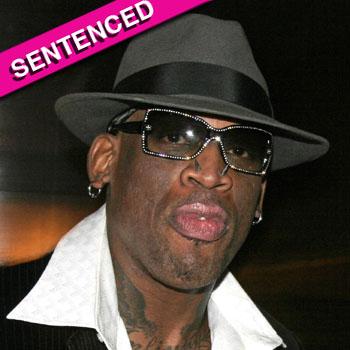 Article continues below advertisement
The flamboyant 51-year-old is known as much for his antics off the court, including a high profile affair with Madonna and a short-lived marriage to Carmen Electra, as he is for his professional career playing alongside basketball legend Michael Jordan.
Despite a successful career in the league that spanned 14 years and won him five NBA championship rings, Rodman's lawyers claim that he is "broke" and unable to pay the money owed to his ex-wife, Michelle Moyer, due to his alcoholism and tarnished public image.
The couple were married in 2003 but filed for divorce just a year later. They have two children, DJ, 11, and Trinity, 10.
Court Commissioner Barry Michaelson also placed Rodman on three years of informal probation. The sentence includes the condition that Rodman pay current child and spousal support obligations.
"It's all about the kids," said Rodman after the hearing, according to ESPN.com. "It does suck the fact that it had to come to this."