Valentine's Day: Sin City Edition! Stars Who Married In Vegas & Later Divorced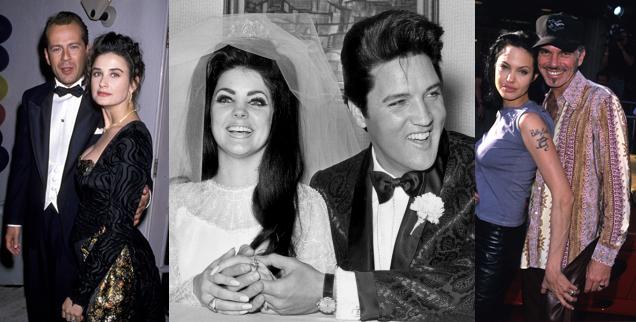 What happens in Las Vegas doesn't always stay there, as proved time and time again – especially when you get married there like these Hollywood stars did!
For better or for worse, a slew of celebrities have indulged in a little more than heavy gambling in the city of sin, trading vows with their longtime loves -- as well as with those of just a few hours -- in 24 hour chapels. In honor of Valentine's Day, the official holiday of lovers, and loathed by die hard romance cynics, RadarOnline.com has photos and details of the most high-profile Las Vegas celebrity weddings of all times that all went bust.
Article continues below advertisement
It's no surprise that Elvis Presley, one of Sin City's biggest fans, chose to wed his child bride Priscilla there in 1967. Decades later, there are several chapels named after The King, where tourists from around the world go to say their own "I Do's". Unfortunately, Presley's own marriage ended in divorce after the couple split in 1972 following Priscilla's discovery that Elvis had cheated on her.
Demi Moore and Bruce Willis may have been one of Hollywood's biggest power couples of the 1980s, but instead of having a huge, expensive wedding, the duo opted to make their union official in a hotel suite at the Golden Nugget in 1987. Despite having three daughters together, they separated in 1998. However, they didn't actually finalize their divorce until 2000.
There was nothing traditional about Angelina Jolie and Billy Bob Thornton's crazy, blood soaked sexually charged courtship -- so nobody (aside from Thornton's live-in fiance Laura Dern!), was shocked when they walked down the aisle at the Little Church of the West Wedding Chapel in May 2000, a month after taking their romance public. The pair announced in 2002 they were adopting a son together from Cambodia, but separated three months later -- their divorce was finalized in May 2003.
Article continues below advertisement
Hollywood's most notorious bachelor, George Clooney, has only been married once in his life -- and that was in Las Vegas. The sworn again bachelor wed Talia Balsam in 1989 and managed to stay married to the actress until 1993.
Nicky Hilton and Britney Spears didn't have great luck either with their quickie Vegas weddings.
While the heiress rushed to the altar with her businessman boyfriend Todd Meister in 2004, having the union annulled just a short three months later, the scandalous singer decided to marry her childhood pal Jason Alexander – and their marriage lasted a whopping 55 hours!