Exclusive
Man Behind Manti Te'o Fake Girlfriend Hoax Hires Attorney, Could Face Criminal Charges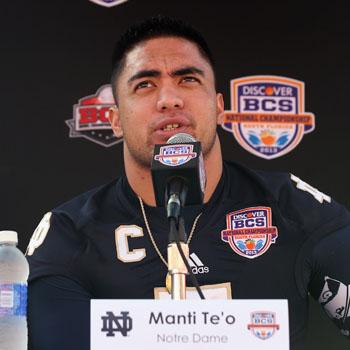 Ronaiah Tuiasosopo, the man behind Notre Dame's Manti Te'o dead girlfriend hoax, has hired an attorney, and fears that he could face criminal charges, RadarOnline.com is exclusively reporting.
"Ronaiah is absolutely freaking out about the prospects of facing criminal charges, which would include identity theft for using his high school Facebook friend, Diane O'Meara's picture on social media as Lennay Kekua," a source close to the situation told Radar.
Article continues below advertisement
"Ronaiah has called an apologized to Diana, and admitted to her that he used her picture to impersonate someone else. Diane has never met or spoken with Manti, and has no idea why Ronaiah would involve her in this.
"They were casual Facebook friends, and nothing more. She had nothing to do with the hoax. Manti has made it known he isn't interested in pursuing criminal charges against Ronaiah, but it's unclear at this point if Diane is interested in seeing this all play out in the court system."
The star Notre Dame defensive player has insisted that he had no role in the hoax. After months of corresponding on social media and by telephone with a woman he knew as Lennay Kekua, Te'o said he was told in September that she had died of leukemia,. three months later he received a call from a phone number he recognized as Kekua's, with a stranger telling him Kekua wasn't dead.
As RadarOnline.com previously reported, Tuiasosopo, has met twice with board certified psychiatrist to the stars, Dr. Charles Sophy. The aspiring singer and Sophy met again at his Palmdale home on Monday night for more than three hours.
Article continues below advertisement
"Dr. Sophy isn't there as part of a television show or for any other publicity. He is counseling Roniah through this very difficult time," the insider says.
O'Meara appeared on TODAY in a taped interview on Tuesday and said, ""I don't think there's anything he could say to me that would fix this....but for five years he (Ronaiah) has literally been stalking my Facebook and stealing my photos."
Te'o and his parents Brian and Ottilia will sit for an interview with Katie Couric on her syndicated talk show Thursday in what will be the star athlete's first on-camera appearance since the bizarre saga grabbed a stranglehold the public's attention.