Manti Te'o, 'I Had No Part In Dead Girlfriend Hoax'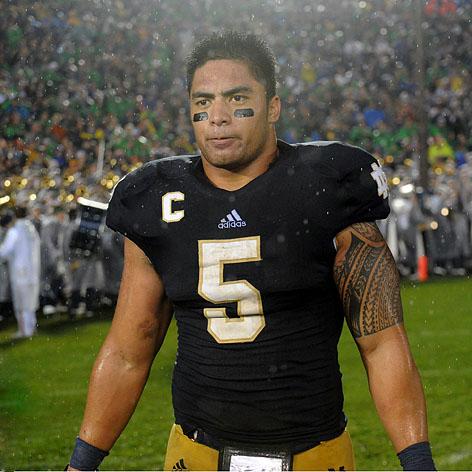 Manti Te'o has finally broken his silence about the bizarre story that has everybody talking -- his non-existent dead girlfriend.
"I wasn't faking it," the Notre Dame football star told ESPN's Jeremy Schaap in a lengthy off-camera interview. "I wasn't part of this."
After more than a year of corresponding on social media and by telephone with a woman he knew as Lennay Kekua, Te'o said he was told in September that she had died of leukemia. Then three months later, he said he received a call from a phone number he recognized as Kekua's, with a stranger telling him Kekua wasn't dead.
Article continues below advertisement
"I knew that. I even knew that it was crazy that I was with somebody that I didn't meet," Schaap said Te'o told him.
The woman also told Te'o that her own father had recently died. "I was that shoulder to cry on. And I kind of just naturally cared for the person. And so our relationship kind of took another level."
Te'o admitted that he'd tried to set up numerous in-person meetings, but they always fell apart, and attempts to speak with her by Skype were always met with blocked pictures.
ESPN and Deadspin, the site that broke the bizarre story, have both reported that Ronaiah Tuiasosopo, a former high school football and volleyball star from suburban Los Angeles, was behind the hoax.
Making matters worse, on top of sharing with his adoring public the story of his girlfriend having died from cancer, Te'o admitted lying to his own father about having actually met the "girlfriend."
"That goes back to what I did with my dad," Te'o told Schaap. "I knew that. I even knew that it was crazy that I was with somebody that I didn't meet," he said. "So I kind of tailored my stories to have people think that, yeah, he met her before she passed away."