Notre Dame Football Star Manti Te'o's 'Dead Girlfriend' Tragedy Was A Hoax, He Admits He Was Duped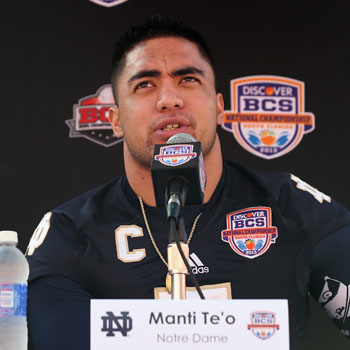 It was a heart-wrenching story that softened even the toughest of sportscasters and made many a fan shed tears on the sidelines, but college football star Manti Te'o's inspirational story of love and loss has been revealed as a hoax and he has now admitted that he never even met his "girlfriend" in person!
The Notre Dame linebacker won the attention of the nation with the revelation that his girlfriend, Lennay Marie Kekua, had been involved in a serious car accident in California, and then she tragically died after being diagnosed with leukemia. He said her heartbreaking death came just days after the death of his grandmother last September.
Article continues below advertisement
The double devastation for the college football star was cited as the inspiration for a 20-3 win by the Fighting Irish over rivals Michigan State on Sep. 15, 2012, and sparked an emotional interview with Te'o on ESPN's College GameDay to talk about the letters Kekua had written him during her illness and her heartbreaking funeral.
"All she wanted was some white roses. So I sent her roses and sent her two picks along with that," he then revealed about his girlfriend, whom he said went to Stanford University.
Now, according to Deadspin.com, it has been revealed that the story is the biggest piece of sports fiction since Field Of Dreams – and his sweetheart not only didn't die – but she may not even exist!
The humiliated Heisman Trophy hopeful admitted in his own statement that he had been duped, "This is incredibly embarrassing to talk about, but over an extended period of time, I developed an emotional relationship with a woman I met online," he revealed, according to ESPN.com.
Article continues below advertisement
"We maintained what I thought to be an authentic relationship by communicating frequently online and on the phone, and I grew to care deeply about her. To realize that I was the victim of what was apparently someone's sick joke and constant lies was, and is, painful and humiliating.
"It further pains me that the grief I felt and the sympathies expressed to me at the time of my grandmother's death in September were in any way deepened by what I believed to be another significant loss in my life.
"In retrospect, I obviously should have been much more cautious. If anything good comes of this, I hope it is that others will be far more guarded when they engage with people online than I was," he concluded.
Notre Dame University released a statement on Wednesday saying: "On Dec. 26, Notre Dame coaches were informed by Manti Te'o and his parents that Manti had been the victim of what appears to be a hoax in which someone using the fictitious name Lennay Kekua apparently ingratiated herself with Manti and then conspired with others to lead him to believe she had tragically died of leukemia," wrote spokesman and assistant vice president Dennis Brown.
Article continues below advertisement
"The University immediately initiated an investigation to assist Manti and his family in discovering the motive for and nature of this hoax. While the proper authorities will continue to investigate this troubling matter, this appears to be, at a minimum, a sad and very cruel deception to entertain its perpetrators."
Te'o did lose his grandmother, Annette Santiago on Sep. 11, 2012 at the age of 72, but there is no SSA record of the death of Lennay Marie Kekua, that day or any other, reported Deadspin on Thursday. Her passing, recounted so many times in the national media, produces no obituary or funeral announcement in Nexis, and no mention in the Stanford student newspaper.
Also missing are any report of a severe auto accident involving a Lennay Kekua, any record that she was ever enrolled at Stanford, record of her birth or online evidence of her existence apart from a a few Twitter and Instagram accounts. In fact, the photographs identified as Kekua—in online tributes and on TV news reports—are pictures from the social-media accounts of a 22-year-old California woman who has never met the Notre Dame star, according to Deadline.
Article continues below advertisement
The scam is reportedly the online creation of Ronaiah Tuiasosopo – the former high school classmate of the woman in the fake photos – and some friends are alleging that he not only knew Te'o, but they are also "80 percent sure" that Manti participated and did so with publicity in mind.
Other pals said that Tuiasosopo created Lennay in 2008, one source added that Te'o wasn't the first person to have an online "relationship" with her.