NFL Murder Suicide Tragedy: Jovan Belcher Vowed He 'Would Shoot' Baby Mama In Text To Secret Girlfriend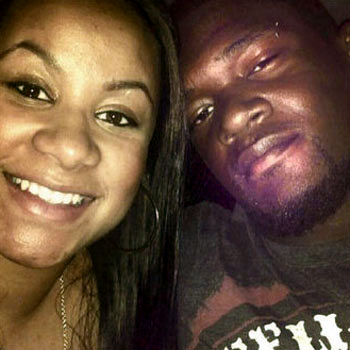 By Debbie Emery - RadarOnline.com Reporter
Jovan Belcher, the NFL player who shot dead Kasandra Perkins, before turning the gun on himself, sent a text message to a secret girlfriend vowing he "would shoot" Perkins if she didn't leave him alone, according to a recently released police report.
The message was sent two months ago and is an eerie foreboding to the tragic murder-suicide that rocked the Kansas City Chiefs on December 1 when the 25-year-old emptied his .40-caliber handgun into the mother of his three-month-old daughter.
Article continues below advertisement
As RadarOnline.com previously reported, Belcher shot Perkins multiple times after the pair got into a heated argument, then traveled five miles to the Chiefs' Arrowhead Stadium where he was met by general manager Scott Pioli and coach Romeo Crennel, where Belcher thanked them for all they'd done for him before shooting himself.
Rather than taking it as a serious threat, the anonymous girlfriend thought Belcher was joking, revealed the Kansas City Star.
The Jackson County, Missouri, prosecutor's office closed the case on Friday, after ruling the deaths a murder-suicide, spokesperson Mike Mansur told RadarOnline.com.
However, the police report contains shocking details, including that Belcher told his lover that Perkins "knew exactly how to press his buttons and make him angry," and that Kasandra had "threatened to take all his money and his child if they split up."
Article continues below advertisement
According to the report, police observed 10 apparent gunshot wounds on the front of Perkins' body, including to her neck, shoulder and chest, and five wounds on her backside - four bullets remained in her body.
Belcher's mother, Cheryl Shepherd, told police that she had moved in with the couple about two weeks before their deaths because they were having "relationship problems due to financial issues associated with Perkins' spending habits." She also told police that the argument on the morning the couple died "was in regard to one or both of them going out as in to a club or partying."
Outrage! Fox News Host Says Female Victims Of Domestic Violence Should 'Make Better Decisions'
Jovan Belcher's Slain Girlfriend Remembered In Memorial, Orphaned Daughter Guaranteed NFL Money
Kansas City Chiefs Players Attend Memorial For Jovan Belcher Following Horrifying Murder Suicide