Jovan Belcher Murder-Suicide: Dramatic 911 Call Released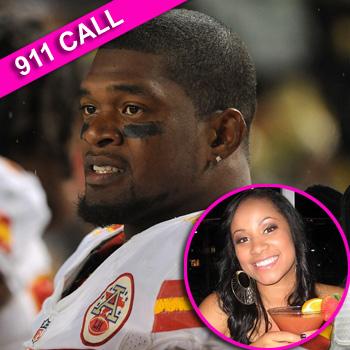 Officials have released the graphic 911 call made in wake of the shocking murder-suicide involving Kansas City Chiefs player Jovan Belcher, as Belcher's panicked mother alerted authorities after her son shot his girlfriend Kasandra Perkins, with whom he had an infant daughter.
In the call, which police said came in at 7:50 a.m., Belcher's mother Cheryl Shepherd, said Perkins could be seen bleeding "in the back," as cries from the couple's 3-month-old daughter Zoey were audible in the background.
Article continues below advertisement
"She's still breathing but barely … please hurry," Shepherd told the operator, before presumably turning her attention to the 22-year-old Perkins. "Stay with me … the ambulance is on the way! You hear me? You hear me! Kasandra! Stay with me!"
When asked where her son was at, Shepherd replied, "He left … they were arguing … just get the ambulance here, please!"
Watch the video on RadarOnline.com
In a subsequent call, a caller reported to a 911 dispatcher a self-inflicted shooting at the Chiefs facility in which the gunman was "probably dead."
"They said it's a done deal," the reporting party told the dispatcher. "They've got a player who shot himself."
As we previously reported, authorities said Belcher, 25, fatally shot Perkins, then drove another five miles to Arrowhead Stadium, where the troubled athlete made the sign of the cross across his chest before shooting himself in the head in front of Chiefs general manager Scott Pioli and Head Coach Romeo Crennel.