Kansas City Chiefs Star Jovan Belcher Dead In Murder-Suicide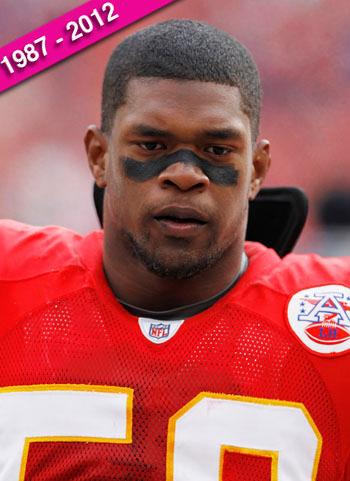 UPDATE: Police Capt. David Lindaman said Belcher and his 22-year-old girlfriend got into an argument around 7 a.m. at their Kansas City home. Around 7:50 a.m., Lindaman said, Belcher shot his girlfriend multiple times. She was taken to a hospital, where she was pronounced dead. Lindaman said Belcher's mother, who was visiting the couple and their 3-month-old daughter, witnessed the shooting and called police. Read more here.
Article continues below advertisement
Kansas City Chiefs star Jovan Belcher is dead.
The linebacker, 25, shot his girlfriend at 8 am Saturday morning. He then drove to the Chief's Arrowhead Stadium where he shot and killed himself.
Police spokesman Darin Snapp confirmed to CBSSports.com that Chiefs general manager Scott Pioli and head coach Romeo Crennel were outside the team facility at the time of the shooting. They had apparently seen Belcher standing with a gun to his head.