Stodden Was Bullied! Couples Therapy Doctor Attacks Castmates 'Courtney & Doug Are Human Beings!'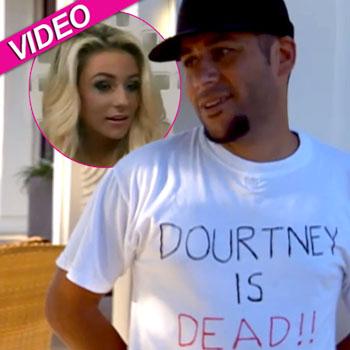 Article continues below advertisement
Alex McCord's husband Simon van Kempen pays "tribute" to Courtney by putting on a skimpy Speedo and prancing around the pool area, while thedirty.com founder Nik Richie daubs his t-shirt with the slogan "Dourtney Is Dead."
"Babe I don't think you understand. This is like Princess Diana," Nik quips to his wife Shayne Lamas about Courtney and Doug's sudden departure.
While the rest of the house rejoices, Dr. Jenn Berman is furious with them for the "bullying" she says they did to Courtney.
"Courtney and Doug are human beings," she says, on the verge of tears, she is so angry. "She's a young woman who is still trying to make sense of the world."
As for the bullying, Dr. Jenn claims that the 17-year-old and her actor husband were victims of a nasty barrage of comments and actions from their castmates.
"The way you behaved shocked me. In 20 some odd years of doing therapy never ever have I seen people regress like this into such adolescent behavior," she says.
Article continues below advertisement
Dr. Jen rips into Alex McCord for putting dollar bills into Courtney's skirt before she left.
"How the f**k is that going to help her to get therapy?" she yells.
"They needed therapy and they are not getting the therapy that I wanted to give them and that they f**king needed."
The next episode of Couples Therapy airs on Vh1 on Wednesday.
Get More: Couples Therapy
RELATED STORIES:
Bye Bye Stripper Heels & Bras! Courtney Stodden Gets A Make Under