Doug Hutchison In Tears After Stodden Skips Couples Yoga, Shayne Lamas Blames Courtney's 'Stripper Shoes'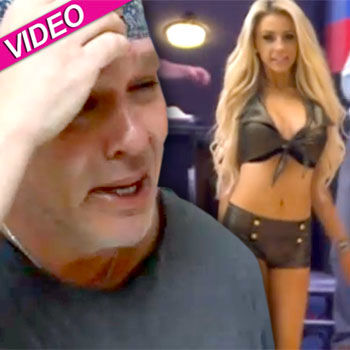 By Amber Goodhand - RadarOnline.com News Editor
Courtney Stodden's 52-year-old husband Doug Hutchison was left in tears on an the most recent episode of Couple's Therapy when his wife didn't show for their yoga session, and RadarOnline.com's has a clip of fellow castmate Shayne Lamas blaming her absence on the 18-year-old's "stripper shoes."
Because filming of the VH1 show took place when Courtney was just 17, she was limited to the number of hours she could tape and wasn't allowed to spend the night at the house due to child labor laws, and the time apart took it's toll on Doug.
Article continues below advertisement
"I'm done. This is bullsh*t. I'm about to hit my threshold," Doug says in the clip as he leaves the couples yoga session when Courtney is a no-show and heads back into the house.
"I'm sitting there on the mat by myself, while all these other couples are back to back feeling their partner, and I'm sitting there like a moron by myself, without my wife."
Shayne, there with her celebrity blogger hubby Nik Richie, follows Doug into the house to see if he's okay and the two get into a dramatic screaming match.
"I think Doug was overreacting that he had nobody to do yoga with, and it's actually quite embarrassing on himself because it shows how really, deeply alone he is. And that's what's sad," Shayne says during the confessional.
"I mean, you cannot wear stripper shoes to yoga, so maybe she opted out, Doug!"
"It doesn't matter…quit blaming her. You're blaming my wife and it's not about that," Doug yells back at her.
Article continues below advertisement
"Shane, you don't understand because you have Nik here. I've already been upset, about a lot of sh*t!"
"Don't' let yourself be upset, just yet. When you came into this situation, you knew yours was going to be different…that she had to leave because she's underage," Shayne tries to reason.
"But until you get fired up, find out if she wanted to do it. She might have said no!"
Doug finally breaks down in tears and tells the camera, "I think I'm reaching my threshold with not being with my wife. I can't be with her at night and sleep with her.